MSNBC Guest: Washington Should Take Gun Control Proposals In Chris Rock's 1999 HBO Special Seriously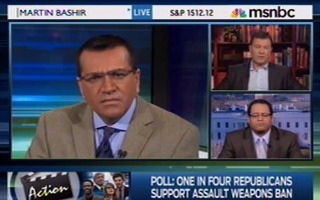 "I'm just here to support the President of the United States," said comedian Chris Rock at a press conference on Wednesday where he joined celebrities and Democratic politicians to call for stricter gun laws. Apparently, Rock's 40 second statement at that press conference had a significant impact on MSNBC's panel guests and hosts. A guest on the Martin Bashir Show said that Rock had enumerated a sophisticated reform that should be taken seriously: a tax on ammunition. But that proposal did not come from today's press conference. It originated from Rock's 1999 HBO comedy special.

RELATED: Gun Control Advocates Roll Out Hollywood Stars In Ongoing 'National Conversation' With Each Other
"You don't need no gun control. You know what you need? We need some bullet control," Rock famously suggested in his 1999 HBO special Bigger and Blacker. "I think all bullets should cost $5000. $5000 for a bullet. You know why? 'Cause if a bullet costs $5000, there'd be no more innocent bystanders."
That's no joke, according to MSNBC contributor Julian Epstein. He noted that the political consensus forming around the need for universal background checks is welcome, but that reform would do little to curb gun violence. Epstein said that policy makers should be taking Rock's humorous quip seriously.
"Chris Rock made the right point," Epstein said. "We need more than simply background checks. We should be looking at other ways – like taxing bullets, taxing ammunition – to stop the kind of mayhem that we have."
Watch the clip below via MSNBC:
> >Follow Noah Rothman (@NoahCRothman) on Twitter
Have a tip we should know? tips@mediaite.com