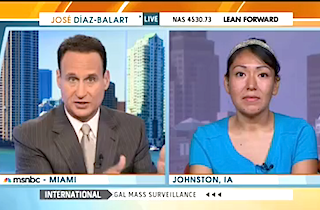 This weekend, Hillary Clinton traveled to Iowa where she fried some steaks and teased her presidential ambitions. She also came face-to-face with some Iowa DREAMers, undocumented immigrants who demanded to know what she would be doing to fix America's broken immigration system.
All Clinton managed to come up with was, "Well, I think we have to keep working, can't stop ever working." When the group asked her what she thought of President Barack Obama's "broken promises," Clinton added, "I think we have to elect more Democrats."
On Monday, one of those young activists, Monica Reyes, appeared on José Díaz-Balart's MSNBC show, where she expressed her frustration with the answers she received. "Honestly, I was not really happy with what she said," Reyes said. "We really need to hold Democrats accountable for this broken promise on immigration reform. And her response didn't really help out with that."
Díaz-Balart pushed back, asking what Reyes expected her to say that would have been more satisfying. She said she would have liked to hear "that they actually are going to be doing something about the immigration reform, that they will stop the delay, they will actually start acting now."
Bringing the conversation "back to politics," the host stressed to Reyes that a bipartisan group in the Senate had actually passed an immigration reform bill, but it ultimately died in the Republican-led House. "Where is your focus?" he asked. "I mean, it seems like, you know, Hillary Clinton was secretary of state and now she may or may not be running for president. What do you expect her to do or say?"
"Well, I think a lot of people are thinking that she is going to be running for president, and if she is we really want to know that she supports immigrants and will be supporting immigration reform," Reyes answered. She confirmed that the DREAMers are going to keep "putting the pressure on Democrats" moving forward.
Watch video below, via MSNBC:
[h/t WFB]
[Photo via screengrab]
— —
>> Follow Matt Wilstein (@TheMattWilstein) on Twitter
Have a tip we should know? tips@mediaite.com