MSNBC's Chris Matthews Battles Guest Over Insistence That Sen. Ted Cruz Is A 'Terrorist'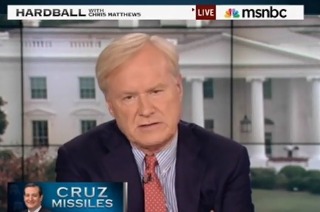 During his Wednesday broadcast, MSNBC host Chris Matthews reiterated his insistence that Sen. Ted Cruz (R-TX) both looks and acts like former U.S. Sen. Joe McCarthy (R-WI). He added, however, that it was his opinion that Cruz is also a "terrorist." When a guest argued that Matthews' assertion was irresponsible, the MSNBC host clarified that Cruz was a "political terrorist" and defended that claim.

"I compared him to McCarthy," Matthews said of Cruz. "I shouldn't get into what people look like, but he does — he reminds me so much, when I look at him interrogating a witness on the Hill, he looks like Joe McCarthy."
"I will say he's a terrorist," Matthews added. "What he's done is say, 'my goal is demolition.' Blow up health care. Blow up the continuing resolution. Bring the government to a standstill."
RELATED: Chris Matthews: Ted Cruz 'Fits In Tradition' With Nazi Sympathizer Father Coughlin
Matthews was repudiated by former John McCain campaign manager Steve Schmidt who said that it was irresponsible for him to call a sitting U.S. Senator a "terrorist." Matthews demanded to know "why" that was inappropriate.
"I said political terrorist – that's what he is," Matthews insisted.
"I'm not comfortable with the word," Schmidt replied.
"Okay. Don't use it," Matthews shot back. "I'm comfortable with it."
When Schmidt insisted that Matthews' statement was irresponsible, the MSNBC host insisted that Schmidt was only being protective of Cruz because he's a "fellow Republican."
Matthews concluded his program by insisting that Cruz and other Republicans were "terrorists" who intended to "bring down the American government." Matthews had previously compared Cruz to Nazi sympathizer Father Coughlin.
Watch the clip below via MSNBC:
> >Follow Noah Rothman (@NoahCRothman) on Twitter
Have a tip we should know? [email protected]