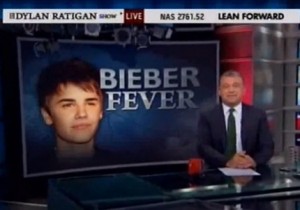 Dylan Ratigan, it appears, is not a Belieber. The MSNBC host delivered a comically Abe Simpson-esque rebuke of pop sensation Justin Bieber, complete with old-guy explanation of whippersnapper slang. Bieber had the unmitigated gall to tweet about how the press and the paparazzi were cramping his Israel vacay, prompting Ratigan to put it all into perspective for Biebs.

Apparently, Bieber's visit has been marred by controversy over a meeting with Israeli Prime Minister Benjamin Netanyahu that Bieber's camp says was never on the schedule. But the tweet that really set Ratigan off was this one:
i want to see this country and all the places ive dreamed of and whether its the paps or being pulled into politics its been frustrating
As he reads Bieber's tweet, Ratigan confesses to having just learned that "paps" means "paparazzi" (as opposed to, say, several trips to Walgreens), then deadpans into the camera that Bieber should be happy he's holed up in a hotel room, instead of (dramatic pause) "in a bomb shelter."
Fight the power, Dylan!
In fairness to Bieber, who's only 16 years old, Ratigan seems to have skipped over some of Bieber's earlier tweets:
You would think paparazzi would have some respect in holy places. All I wanted was the chance to walk where jesus did here in isreal.

They should be ashamed of themselves. Take pictures of me eating but not in a place of prayer, ridiculous

People wait their whole lives for opportunities like this, why would they want to take that experience away from someone
Yeah, what a prick.
Have a tip we should know? tips@mediaite.com