MSNBC's Joy Reid Praises Obama's Reaction To Terror, Says Bush Disappeared For 'Couple Weeks' After 9/11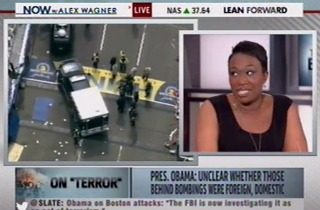 MSNBC contributor Joy-Ann Reid told the host of Now, Alex Wagner, that she thought President Barack Obama's response to the attack on the Boston Marathon on Monday was powerful and comforting in a way that President George W. Bush's response to the attacks of September 11, 2001, was not. She accused Bush of being unavailable to the American people for the "first couple weeks" after the attack on the World Trade Center and the Pentagon.

RELATED: Obama Calls Boston Bombing 'Terrorism,' But Confirms: 'The American People Refuse To Be Terrorized'
Reid told Wagner that the president's statement actively combatted the intention of the terrorists, which is to make their targets feel "discombobulated."
"Having, sort of, one person communicating with you is very important," Reid said. "We learned after 9/11 that when George W. Bush didn't do it, [former New York City Mayor] Rudy Giuliani stepped in."
"The whole country was waiting for him to come on the television for those first couple of weeks because you didn't see the president," she continued. "President Obama has definitely learned the lesson that you have to speak early, speak often, speak confidently."
Reid said that she was glad Obama was "cautious" and had thus far avoided sating American's "fetish" for "bellicose language."
Bush was in Florida at the time of the 2001 attacks and spent hours aboard Air Force One as the events of 9/11 were unfolding. Once on the ground, Bush addressed the nation at 8:30 p.m. EST on the night of the 9/11 attacks after returning to the White House at 6:54 p.m EST. He traveled to New York City in the ensuing days and stood atop the rubble of the World Trade Center and addressed the crowd with a bullhorn on September 14, 2001.
UPDATE: Bush also spoke to reporters at Barksdale Air Force Base in Louisiana at 1:04 p.m. EST on September 11, 2001. "Make no mistake, the United States will hunt down and punish those responsible for these cowardly acts," Bush said of the attacks at the time.
Watch the clip below via MSNBC:
> >Follow Noah Rothman (@NoahCRothman) on Twitter
Have a tip we should know? tips@mediaite.com