MSNBC's Ruhle Grills Sanders Delegates On Protests During DNC Prayer: Is That Not 'Disrespectful?'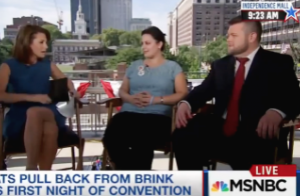 As the Democratic National Convention heads into its second day, Stephanie Ruhle decided to ask two Bernie Sanders delegates about whether their supporters plan to continue the major disruption observed on Monday night.
The MSNBC host sat with Kate Larson and Jason Brown, and she got right to the point by asking what they were hoping to achieve now that their man has asked his movement to unify behind Clinton. Brown insisted that he would represent his Sanders-supporting voters, but Ruhle pressed on by saying that Clinton is mathematically determined to be the nominee, and that it was "pretty disrespectful" to protest last night in the middle of the DNC's convention prayer.
Brown responded that the it was more disrespectful that the prayer was for Clinton specifically, but Ruhle kept engaging the two about the crowd's repeated disruption of a convention with the bottom line of recognizing Clinton as the victorious Democratic nominee.
Eventually, Ruhle got back to her broader point and asked "what the point is" for the protests when Sanders and some of his most prominent supporters are now backing Clinton
"He built the fire. He lit it and now he is saying 'guys, time to put it out,'" Ruhle said. "Are you not listening to your candidate?"
"I would argue is that he is not saying that we put anything out," Brown said. "He's saying we need to continue and fight harder––"
"For Hillary Clinton," Ruhle interjected.
Brown's final answer was that he would continue to support Sanders until the Vermont senator releases his delegates.
Watch above, via MSNBC.
[Image via screengrab]
— —
>> Follow Ken Meyer (@KenMeyer91) on Twitter
Have a tip we should know? tips@mediaite.com