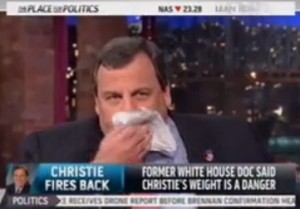 Governor Chris Christie's (R-NJ) self-satirizing appearance on The Late Show with David Letterman has touched off a war of words between the Garden State political brawler and former White House physician Dr. Connie Mariano, who expressed support for Christie, but concern that "this man might die in office."
On MSNBC Live Thursday morning, host Thomas Roberts asked his panel about Christie's fiery response, and wondered if the Guv brought this all on himself by presenting himself, on Letterman's show, as a "modern day Henry VIII."
Gov. Christie generated laughs, and headlines, when he poked fun at himself on David Letterman's show by eating a doughnut while Letterman delicately broached the topic of fat jokes, then read a few of his favorites. He also told Letterman that "I'm the healthiest fat guy you'll ever meet."
Dr. Connie Mariano, former White House physician to President Bill Clinton and a self-described Republican, seemed to disagree, telling The Newark Star Ledger that ""He probably has incredible stamina and that's great, but you wonder what his blood pressure must be like, whether he has sleep apnea at night," and went a step further with CNN, saying that she worries that "this man might die in office."
That prompted a rebuke from Gov. Christie that had MSNBC's Thomas Roberts asking if Christie has the temperament to run for president, and wondering if the Governor brought this all on himself:
It remains to be seen if Gov. Christie's bare-knuckle rhetorical style can appeal to voters at the presidential level, but in this particular case, the Governor's reaction is understandable. Before he told Dr. Mariano to shut up, he related to reporters that "My children saw that last night and she sat there on TV and said, 'I'm afraid he's going to die in office. My 12-year-old son came to me last night and said, 'Dad are you gonna die?'"
It's also difficult to tell how much of the media's focus here is concern, and how much is concern-trolling. I'm no fan of Gov. Christie, but as someone who struggles with serious health issues, I can relate to not wanting some TV talking head speculating about your death as your kids watch. However, the Governor told reporters, the day after his Letterman appearance, that his own doctor has told him "luck is going to run out relatively soon."
That's not necessarily all about his weight. Governor Christie also has to drive on the Garden State Parkway, a challenge that could stress the most physically fit among us. There is legitimate reason for concern, but framing Christie's health in terms of his fitness for office is cold, as such concerns often are.
Whatever his political future, it's good to hear that Chris Christie plans to tackle his weight problem, and I hope he succeeds. You only get one term as dad.
Have a tip we should know? tips@mediaite.com