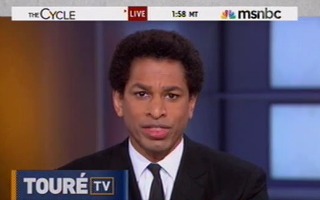 MSNBC host Touré delivered a monologue on Monday in which he listed the number of reasons why he thinks it is time for the Democratic Party, and President Barack Obama in particular, to come out in favor of sweeping gun control measures. He said that the Democratic Party has an irrational fear of gun control legislation, and it is time for Obama to deliver for the "suburban and urban voters who show up for Dems in droves." Only Obama can "save us from the gun epidemic," Touré concluded.

RELATED: MSNBC's Touré And Steve Kornacki Defend Publishing Gun Owners' Names And Addresses
"We want to envision ourselves as a nation of vigilantes protecting ourselves with our guns," Touré began. "But that's not what's happening. We're an over-armed nation helping gun makers get richer by believing blatant lies that the government is plotting to take away our guns, and believing the myth that we're protecting and not endangering ourselves."
Touré went on to list a number of statistics that he believes proves the notion that more guns are endangering the welfare of average Americans rather than making us safer.
He noted that Vice President Joe Biden has delivered the recommendations set by his taskforce charged with proposing new laws that would combat gun violence.
"This is part of what could be the most crucial moment in the Obama administration – perhaps the most important legislation they'll ever propose," Touré said.
"Gun safety is no longer a clear loser for Democrats who have lost pro-gun rural voters and have nothing to show for it but a fear of gun control," he continued. "The suburban and urban voters who show up for Dems in droves need the president to save us from the gun epidemic. We need him to fear nothing but fear itself."
Touré conclude by listing a litany of recommendations he thinks would reduce gun-related deaths, including the expansion "of reporting on who has guns."
"If you're not fighting to help people's lives, then why are you in D.C.?" Touré concluded.
Watch the segment below via MSNBC:
> >Follow Noah Rothman (@Noah_C_Rothman) on Twitter
Have a tip we should know? tips@mediaite.com