Murkowski Tells Couric Sarah Palin Doesn't Have "Intellectual Curiosity" To Be President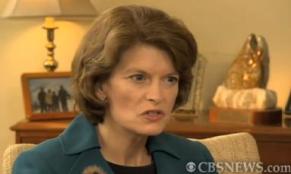 Likely Alaskan Senate race winner Lisa Murkowski sat down with the most famous Sarah Palin-interviewer, Katie Couric, yesterday.
Murkowski sounded confident she'd win in the CBS Evening News interview – and also took some shots at Palin.
"I'm still her Senator, I'm going to work hard to represent her," said Murkowski of Palin, but added, "we don't really have much of a relationship."
When asked by Couric if she'd endorse Palin for President, Murkowski said no. While complimenting her for being "engaged in motivating people," she said, "She would not be my choice for president. I just do not think she has those leadership qualities, that intellectual curiosity that allows for building good and great policies."
There was an interesting exchange when Couric took on the role of the Mama Grizzly herself. "If I were Sarah Palin, what would you say to me?" she asked. Said Murkowski:
We have common interests and a shared love for our state. I'd like to think if there were an opportunity to help do something good for Alaska she would call me or I would call her. But she, again, she is not really that keyed into the state anymore.
By the time Palin decides whether she'll run for President, likely sometime in mid-2011, she'll have a pretty good idea who will support the run and who won't, thanks to the media's go-to line of question for fellow political leaders.
And in the ongoing Alaskan Senate race saga, Murkowski has now pulled ahead of Joe Miller in votes counted, although there are still enough votes being challenged by the Miller campaign that a court case may be inevitable. By Friday, however, there may be enough uncontested ballots for Murkowski, so it appears she will be the likely winner.
Here's part of Couric's interview last night:


—–
» Follow Steve Krakauer on Twitter
Have a tip we should know? [email protected]