New Book Confidence Men Alleges Incompetence, Sexism Within Obama's White House
New Book
Confidence Men
Alleges Incompetence, Sexism Within White House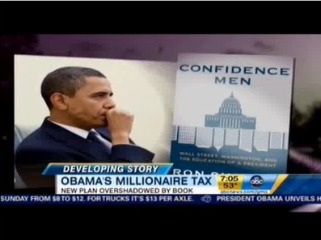 So far, it appears that ABC News is the only network to cover a controversial new book shedding a harsh light on the goings-on within Obama's White House. On Monday, Good Morning America's George Stephanopoulos intoduced a segment on the book by calling Ron Suskind's Confidence Men nothing short of a "bombshell."
Jake Tapper then outlined the allegations contained therein, including charges of sexism, disrespect, in-fighting among aides and general incompetence within the administration. Tapper notes, for instance, that former top economic adviser Larry Summers is quoted as telling another top aide that "We're home alone; there's no adult in charge. Clinton would never have made these mistakes." And then there's former communications director Anita Dunn, who is quoted within the book as saying that "This place would be in court for a hostile workplace because it actually fit all the classic legal requirements for a genuinely hostile workplace to women." Dunn has since said she does not consider the White House "hostile," although she is one of several women expressing similar concerns in the book.
And then there's a passage about Treasury Secretary Tim Geithner outright refusing to carry out an order from Obama to prepare for the dissolution of a major U.S. bank. The White House alleges the book's author has either misheard or misrepresented what actually went on for the purpose of bolstering his thesis.
Some former aides have also come forward saying that, while a certain level of disagreement is normal and expected, the book offers an inaccurate look at the inner workings of the White House. Nonetheless, the book comes at a particularly sensitive time for the Obama administration, of course, given the President is hoping to gain support for his new jobs plan.
Have a look at the report, via ABC:
Have a tip we should know? tips@mediaite.com