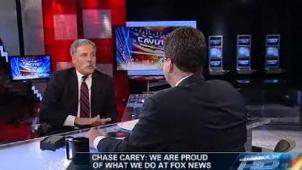 News Corp. COO and President Chase Carey was a guest this week on Fox Business Network, and host Neil Cavuto asked him about a wide range of issues.
Serving as Rupert Murdoch's #2 means there's a lot to talk about – from White House vs. Fox News to Google.
Carey gave his measure take on the whole White House vs. Fox News situation. "We all recognize that the government should be acting as the government and Fox News is trying to cover the news," said Carey. "At the end of the day it delivered stronger ratings and benefited Fox in the short term. At the end of the day we are proud of what we do at Fox News. We do believe we cover business in a fair and balanced way. We hope and believe that the government is not going to be vindictive against parties whose views they may not always like, but will accept there are a range of views."
That's a nice way of saying thanks for the publicity, and stick to governing.
Carey was more vague when Cavuto put him on the spot about the younger network, FBN, which has worked recently to cement its place in the business news world. After Carey spoke of his hopes for the company, Cavuto half-jokingly said, "It sounded like a bit of a warning." Carey denied he was issuing a warning for better ratings, and turned the attention to distribution instead.
On another note, Carey weighed in on Rupert Murdoch's recent comments about wanting his sites removed from Google. From the transcript:
We believe you have to build healthy business models and we believe a healthy business model has to be supported above the advertising dollars in some form of payment…You have to believe in the quality of your content, the value of your content, and ultimately business models that will evolve, and if people aren't doing it yet, that seems to be a path that does not lead you to a healthy business. We're not going to be sheep jumping off a cliff.
It's always a dicey situation for a network to interview one of the top execs at their corporate parent company. There's a balance between asking the tough questions and portraying the company in a positive light. Here, Carey's amiability led to a wide-ranging interview that stayed mostly as an opportunity for him to talk about the business without breaking any major news.
Here's part of the interview, including Carey's take on Don Imus:


—–
» Follow Steve Krakauer on Twitter
Have a tip we should know? tips@mediaite.com