Newt Gingrich Calls Into MSNBC To Wish Al Sharpton A Happy Bipartisan Birthday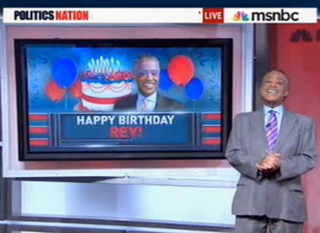 Today is MSNBC host Rev. Al Sharpton's birthday, a fact that his producers did not let fall by the wayside on air. Sharpton took a segment of his show to stop and receive a "surprise call" of well-wishing from a fairly unexpected source: former Speaker of the House and 2012 presidential candidate Newt Gingrich, who lauded Sharpton with effusive praise for his advocacy while wishing him the best.
Sharpton appeared to not be entirely surprised by receiving a birthday gift (there was a giant "HAPPY BIRTHDAY REV" sign behind him, after all) but did seem to have been taken by surprise that his gift wasn't an on-air cake or dog and pony show, but… Newt Gingrich. Gingrich himself joked that "I figured I would be the least likely phone call you'd get tonight," especially to praise him for his political work. The two had gone on a trip to promote education awareness where, Gingrich noted, Sharpton "did a lot of good things." "I watched you speak up with courage and toughness on behalf of children," Gingrich noted, telling Sharpton that, while he disagreed with him on most things, he was thankful for the enthusiasm.
RELATED: Classic Shoutfest: Sharpton And Steele Battle Over Rick Perry's 'Black Cloud' Remark
It was a bizarre display of bipartisanship that, for fans of Gingrich and Sharpton alike, will only make them like their man more– a low-key if not entirely surreal birthday present from the Politics Nation team.
The segment via MSNBC below:

Have a tip we should know? tips@mediaite.com