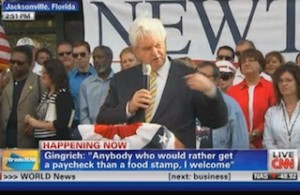 Newly branded GOP frontrunner Newt Gingrich appeared today at a campaign rally in Jacksonville, Florida, and was asked by a presumptive supporter how he intends to deal with the media bias he'll face in his run for office. After openly talking about his recent surge in the polls, Gingrich gave a surprisingly candid assessment of the political media landscape, at least on cable news, calling MSNBC the "Obama re-election team," and intimating that he gets a nicer reception on Fox News than does Obama.
Gingrich's assessment was a pretty frank and honest view of how the cable news portrays a variety of candidates running for office, and he said as much without condescension or ire. In fact, most reasonable people will hear his comments and agree. A rough transcript of Gingrich's comments (via TV Eyes):
I was dead in June and July as a candidate, not as a person. As a candidate. And now I'm apparently not dead. And according to Fox last night, I'm in first place. I think realistically I'm tied with Romney….we're both somewhere in about the —

But here's the key thing to remember. We all complained correctly when the news media failed to investigate Barack Obama. We complained when they refused to look at William Ayers. We complained when they didn't actually explain Saul Alinsky and what it was all about and what community organizer meant. We were right to complain about that. Wo now they're actually doing for us what they wouldn't do for Obama. They're doing it partly out of bias.

I understand that and i understand there are places like MSNBC that are essentially the Obama re-election team. But that's fine. This is a free society. You can say that Fox tends to be nicer to (inaudible) than to Obama. In the next three weeks i predict to you we'll have all sorts of questions about me. and it's fine. You cannot ask the people of the united states to loan you the most powerful governmental job in the world, particularly on a campaign that is promising very drama change, and not have them vet you carefully and thoroughly.
In GOP quarters the company line has been that Barack Obama wasn't properly vetted by the media. Anyone who watched Fox News opinion programs in 2008, however, and saw what seemed like an endless loop of Rev. Wright talking about chickens coming home to roost would likely disagree. But Gingrich's comments that its all "fine" and that "this is a free society" appear to reflect a kinder and happier tone of someone who if likely happy to be at the top of the polls.
Watch the clip below, courtesy of CNN:
Have a tip we should know? tips@mediaite.com
Colby Hall - Founding Editor