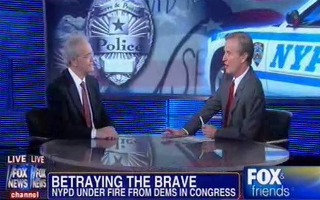 New York Post columnist Michael Goodwin appeared on Fox & Friends on Monday where he blasted Congressional Democrats for "voting to defund the New York police department" due to what he describes as a persistent narrative that the NYPD has been targeting and profiling Muslim citizens without probable cause. He says that this move by Democrats in the House runs counter to the narrative that President Barack Obama is building up ahead of the November election, which is that Democrats are tough on terrorism at home and abroad.
RELATED: NY Post Columnist: Clinton Will Join Obama On Ticket And 'Biden Will Be Sleeping With The Fishes'
"Look, it was a very strange vote in the House of Representatives," said Goodwin. "New Jersey Congressman Rush Holt—a Democrat—proposed an amendment that would essentially defund any law enforcement group from federal dollars that did any kind of profiling, any kind of anti-constitutional moves."
Goodwin says that the amendment does not itself mention the NYPD, but in Holt's floor speech in support of the amendment, he "absolutely shredded the NYPD's reputation."
Goodwin said that Holt accused the NYPD of "sloppiness, laziness – said that profiles doesn't do its job well." Goodwin said that the NYPD was defended by Republican Rep. Pete King (R-NY) who helped rally House Republicans to defeat the amendment.
"But it was such a partisan vote; virtually every Democrat in the country – only 11 Democrats in the country voted against this," said Goodwin. "The rest of them all voted to defund the New York Police Department, which would affect the terror – anti-terror efforts in New York City, as well as the anti-crime efforts."
Co-host Steve Doocy interjected that New York City Police Commissioner Ray Kelly may be a good candidate to run for mayor in 2013 for the Republicans, and that this vote by Congressional Democrats may be an attempt to damage him politically ahead of that run.
President Obama has tried to counteract the idea that the Democrats are soft on terror, soft on crime. That, I think in part, is why he frequently spikes the football on the Osama bin Laden assassination. It is essentially a way of showing that he and the Democratic party are tough on terror. So here, at the same time, you have Congressional Democrats sending the opposite message; which is, we want to defund – take away all the federal money from the New York Police Department – because some media organizations and some liberal activists have accused it of profiling Muslims. Which it absolutely has not done. It's followed all the laws. It's been upheld in every time it's been tried, and yet there's this persistent narrative that police are trampling on civil liberties.
Goodwin went on to say that the NYPD has been able to thwart more than one dozen attempted terror attacks in New York City and has been able to stop every potentially life-threatening attack before it could be carried out since September 11.
Watch the segment below via Fox News Channel:

Have a tip we should know? tips@mediaite.com