Obama Outreach A 'Joke'? Morning Joe Takes On Sentiment That 'Whiny' Media 'Biased Toward Bipartisanship'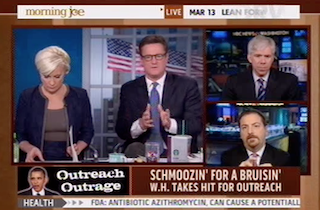 Following yesterday's report that cited a White House official saying President Obama's outreach is simply for show and a "joke," the Morning Joe panel on Wednesday discussed. Those reported intentions notwithstanding, Joe Scarborough commended Obama's effort — while Chuck Todd noted that, some West Wing sentiment that a "whiny" media is "biased toward bipartisanship."
The widely circulated nugget from the Ron Fournier's National Journal article was:
This raises the uncomfortable question: Is this schmooze-a-thon a legitimate act of humility and leadership or a cynical public display?

I can't answer that question because I don't pretend to know Obama's state of mind. I can tell you that some of his advisers are no more convinced that this strategy will work than they were a few days ago.

"This is a joke. We're wasting the president's time and ours," complained a senior White House official who was promised anonymity so he could speak frankly. "I hope you all (in the media) are happy because we're doing it for you."
Scarborough noted that people in the White House he'd heard from were rather cynical up until the past week, when they seemed to express more optimism about a potential deal.
"There is still a sentiment inside the West Wing that doesn't trust this process," Todd explained. "That thinks we in the media drove this, that we in the media are whiny, and we push it, and we always were biased toward bipartisanship, and if we don't see it, then we criticize and they hate the false equivalency. All of those things."
Given that, it's not surprising that Fournier found someone to make that type of cynical remark. The new chief of staff Denis McDonough is "the driving force" behind the outreach, Todd asserted.
"I think the president doesn't view it as a joke," David Gregory chimed in. "I think he recognizes that this was a tactical shift that he had to make if he was going to break through on something."
Acknowledging that he's been "really tough on the president," Scarborough urged us to salute Obama for making the effort, because it's not easy for any president to go up to Capitol Hill — and especially not for Obama based on what we've heard about him. "He doesn't think it's his job, it's his responsibility," he noted, "but he did it anyway."
Take a look, via MSNBC:

Have a tip we should know? tips@mediaite.com