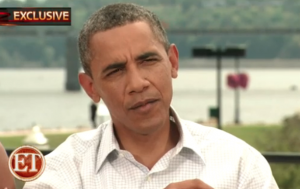 President Barack Obama sat down for an interview with Entertainment Tonight, alongside First Lady Michelle Obama, to discuss recent developments on the campaign trail. In particular, he took a chance to comment on Mitt Romney's recent harsh criticisms.
RELATED: Romney: Obama's 'Campaign Strategy Is To Smash America Apart'
Responding to Romney's allegations that Obama is running a "campaign of division and anger and hate," Obama said:
Well, Nancy, you've been on the campaign trail with me for a day and a half, and this is pretty typical of what we do. We're going around the country, talking about, 'How do we put people back to work? How do we improve our schools? How do we make sure that we're producing American energy? How do we lower our debt in a responsible way?' And I don't think you or anybody who's been watching the campaign would say, yes, that in any way we have tried to divide the country. We've always tried to bring the country together.
He acknowledged Romney's "sharp critiques," noting that such is "the nature of democracy." The two have sharp disagreements, Obama said, in terms of where Romney "would take the country."
Elsewhere in the interview, Obama was asked to comment on Vice President Joe Biden's provocative "going to put y'all back in chains" remark. Biden knows what he's talking about, Obama said, and "his phrasing is a distraction from what is at stake." The furor surrounding the remark, he said, is "an example of what the American people hear and what the press corps want to focus on are two very different things."
And speaking of Biden — what about Sarah Palin's advice that Obama swap out Biden for Secretary of State Hillary Clinton? The president dismissed it, saying they don't pay attention to all the "chatter."
"Most folks know that's just sort of a WWF wrestling part of politics," he said. "It doesn't mean anything, just fills up a lot of airtime."
Take a look at an excerpt of the interview below:

Have a tip we should know? [email protected]