On O'Reilly, Glenn Beck Rails Against The American Nanny State — With Lemonade And Cake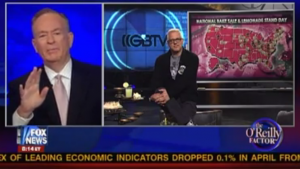 Lemonade stands and bake sales and hug-a-thons! Oh my! The common ground being none other than Glenn Beck, who joined Bill O'Reilly on Thursday night to rail against the impending nanny state that is America.
Beck spoke from Texas, seated beside a glass of lemonade and assorted baked goods. On June 13, he informed us, is National Bake Sale & Lemonade Stand Day. And Hug-A-Thon, too. Why? Because: "They are telling our children that they can't hug in school, they're telling our children that you can't have a bake sale, they're telling our children that you can't have a lemonade stand, without a permit."
"What is happening to us, Bill?" he asked. Helpfully, O'Reilly chimed in the with the background information: in Massachusetts, there was an unsuccessful effort to ban bake sales in schools (poor idea, agreed). Beck added that cities including New York are now "telling us that you can't bring food down to a homeless shelter, we don't know what the salt content is."
O'Reilly asked, "You think this is conceived plan by the nanny staters to discourage entrepreneurialism by younger Americans. That's what you see?" Beck flipped the question, and O'Reilly said he sees "stupidity." It's all about political correctness, he said.
It's not some big conspiracy, O'Reilly added rather reasonably, adding that Beck could find a conspiracy "in a pair of socks." Beck replied, "Only because they're all talking to each other and some of them disappear suddenly." Ha-ha.
But back to the campaign. O'Reilly would like to see 2 million lemonade stands on June 13. Beck said everyone should whip out the card table in their garage and take part — or at least buy lemonade if they pass a stand.
Oh, but that's not Beck's big event (which he was saddened to learn O'Reilly was entirely unaware of). On June 28, Beck is hosting "Restoring Love." It's three days long: the first day is the first global Tea Party kickoff, the second is a service day, and the third is a surprise.
Oh Beck, we've missed you on Fox.
Have a look, courtesy of Fox News:

Have a tip we should know? tips@mediaite.com