Matt Lauer Challenges Trump Over GOP Debate: Will It Be 'All About Donald Trump?'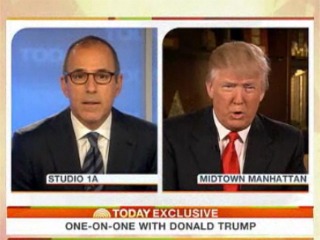 Monday morning, Today host Matt Lauer sat down with Donald Trump to discuss his upcoming gig moderating a GOP debate on December 27th.
Lauer kicked things off by reading Trump recent, less-than-laudatory comments made by George Will, as well as by GOP candidate Ron Paul and Jon Huntsman. Will, Lauer recounted, had opined that the GOP candidates would do well to stay away from the debate, adding that Paul had described the debate as being "beneath the office of the presidency" and it contributes to an "unwanted, circus-like atmosphere" and that Huntsman's people had called it "The Apprentice: Presidential Debate."
RELATED: Rep. Ron Paul Reacts To Trump's Debate Invite; Trump Calls Paul 'Clown-Like'
The reality TV host responded by saying that Paul and Huntsman have "zero chance of being elected, so it makes no difference." Trump – who once flirted with entering the GOP race himself – then called the two politicians "joke candidates."
"I think it'll get tremendous ratings," Trump then said of the debate, after being asked by Lauer whether other candidates are choosing to attend simply in the hopes of gaining his endorsement and support. He then continued to tout his own popularity and success in the polls, only to be interrupted by Lauer:
I've known you for a long time. Let me just tie this up by asking you… This isn't going to be all about Donald Trump. You're not going to use this as a way to get on center stage and talk about what you believe. This will truly be about the candidates. Right?
Trump then weighed in on candidate Newt Gingrich's recent comment about poor children's lack of work ethic, opining that Gingrich is surging in popularity because he "tells it like it is."
Oh, and in case you did want to hear more from Trump about Trump, he told Lauer that he won't entirely rule out running as a third party candidate this May.
Have a look at the full interview, courtesy of NBC:
Have a tip we should know? tips@mediaite.com