O'Reilly Rails Against Media 'Invested In A Race-Heavy' Zimmerman Angle, Confronts Stephanopoulos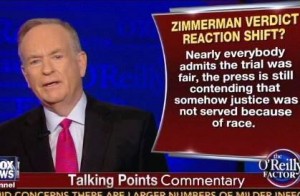 Bill O'Reilly thinks the tide may be turning in the continuing fallout over the George Zimmerman murder trial, as much as the media would like to continue exploiting the racial aspects of the case. He went after the liberal media for being "heavily invested in a race-heavy storyline" and still "pounding the drum" that "Trayvon Martin did not receive justice because of his skin color." O'Reilly also challenged guest George Stephanopoulos over the media's responsibility to call out some of these more outlandish assertions.
RELATED: Tavis Smiley Challenges O'Reilly On Black Crime: Let's 'Arm Every Black Person' And See What NRA Thinks
O'Reilly called out a CNN online writer for a piece that unfairly accused him of saying black people may riot as a result of a not guilty verdict. O'Reilly declared he "fabricated that in order to make me look like a racist" and also slammed Bill Maher for his "cheap shots" during a David Letterman appearance Tuesday night.
O'Reilly then brought on Stephanopoulos to confront him over why he did not challenge Tavis Smiley on This Week for saying the United States has a "contempt" for black men. O'Reilly found it "irresponsible" for Smiley to say this, and told Stephanopoulos that people like him have a responsibility to call out people for saying things like that. Stephanopoulos likened this to "criticizing someone for a book they didn't write" and brushed it off as not the responsibility of a down-the-middle journalist.
O'Reilly insisted it's more about patriotism than journalism, and unsuccessfully attempted to grill Stephanopoulos on whether he agrees with Smiley. O'Reilly insisted people in the media have a responsibility to "stop propaganda," and charged that "there is a strain of hatred toward the United States" that news organizations need to be more honest about calling out. Stephanopoulos insisted he managed to conduct a vigorous, challenging debate even if he didn't press Smiley further.
Watch the video below, via Fox News:
—–
Follow Josh Feldman on Twitter: @feldmaniac
Have a tip we should know? tips@mediaite.com
Josh Feldman - Senior Editor