Pastor Joel Osteen Responds To Backlash For Saying Romney's Belief In Christ Is 'Good Enough' For Him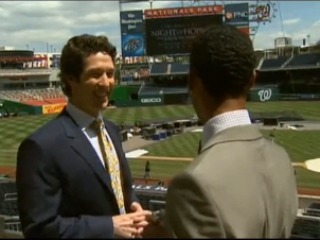 Pastor Joel Osteen raised some eyebrows among Christian groups (doing a quick search for "joel osteen romney christianity" will bring up some of the online debate surrounding Osteen's remark) when he told CNN's Wolf Blitzer the following regarding presumptive GOP frontrunner Mitt Romney's Mormon faith:
When I hear Mitt Romney say he believes that Jesus is the Son of God — that he's the Christ, raised from the dead, that he's his Savior, that's good enough for me
And, as CBN News reports today, Osteen isn't backing down from his comments:
RELATED: Rick Warren To Jake Tapper: Christians Have Big 'Sticking Points' With Some Mormon Beliefs
"I'm not looking to exclude people, I'm looking to include them," Osteen explained.

"Now, I realize, too, you know I grew up a preacher's kid, that Mormonism is not traditional orthodox Christianity," he continued. "There are things that I don't agree with but, then again, there are things about other, you know, the Catholics, that I don't agree with — or even different denominations."
Romney's adherence to the Church of Jesus Christ of Latter-Day Saints had been a matter of contention for some in media and politics, with Romney facing accusations that his family had fled to a Mexican commune that practiced polygamy, being given conflicting advice on whether or not to explain his faith to the American people, grappling with musings about whether his belief system makes him "weird," dealing with criticism that his religion is "invented" or illegitimate, and, of course, facing varying levels of confusion, hesitation or outright animosity from Christians who do not consider Mormons to truly believe in and worship Christ.
Have a look at Osteen's comments, via CBN:
h/t CBN
Have a tip we should know? tips@mediaite.com