Pat Caddell Savages Roger Ailes Biographer: 'An Embarrassment To The Journalistic Trade'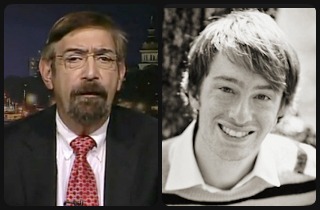 In an op-ed published last week, Fox News Channel contributor and former Democratic pollster Pat Caddell tore into the unauthorized biographer of FNC President Roger Ailes, Gabriel Sherman. Caddell took exception to Sherman's attempts to reach out to him directly seeking clarification and called him an embarrassment to both his employers and the profession of journalism. For good measure, Caddell published in his op-ed an email which he had received from Sherman in full.

RELATED: Random House Signs Deal For Book On The Rise Of Fox News
In an op-ed published on Friday of last week, and republished in the newspaper operated by Ailes' wife, Beth Ailes, Caddell defended author Zev Chafets who was recently attacked for factual inaccuracies in his authorized book about Ailes.
He then turned to Sherman – "a writer for New York Magazine and a fellow at the New America Foundation–a left-of-center think-tank to which George Soros and others in the Soros family have contributed," Caddell wrote.
"Because Sherman has been dogged by accusations of inaccuracy, and he seems to suffer not only from inaccuracy, but apparently also, as I have learned, from incompetence," he continued.
Caddell goes on to reveal that he was contacted by Sherman recently both by phone and by email:
Sherman is not short on chutzpah. In the wake of the publication of my column on Stewart last week–which I never mentioned Sherman at all–Sherman called me on the phone and said, "Hi, Pat." There's some chutzpah right there. I have never met Sherman, I never gave him my number, and, indeed, as a general practice, I don't take calls from people to whom I haven't given my number.
The two had been engaged in a heated battle over a piece Caddell wrote on March 22 in which the former staffer for President Jimmy Carter attempts to correct the record over just who had the most influence over the writing of Carter's "malaise speech." Caddell slammed Sherman for attempting to "crowdsource" information via Twitter in order to refute claims the former Carter pollster made in that column.
"What sort of book is Sherman writing? Is he really so unable to do basic research that, instead, he has to "crowdsource" a factual question through Twitter?" Caddell asked.
"But wait! It gets better," Caddell notes. He bristled at Sherman's temerity, noting that the reporter reached out to him via email to seek further clarification regarding assertions he made in his March 22 column.
Caddell published the email in full and called it the "smoking gun of Sherman's arrogance and/or ignorance."
So here's my answer to you, Gabriel Sherman: I have taken all this time to write this lengthy and detailed piece on a matter that I thought had been put to be bed, succinctly, last week. Frankly, Mr. Sherman, you are an embarrassment to the journalistic trade, and if your book is in the same vein, it will be an embarrassment to your publisher and a disservice to the reading public.
"Please take my advice: Grow up, get a life, and most of all, leave me alone. Got that?" Caddell concludes.
Read the op-ed in full via Fox News Channel
> >Follow Noah Rothman (@NoahCRothman) on Twitter
Have a tip we should know? tips@mediaite.com