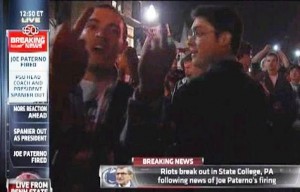 Following the news of longtime Penn State football coach Joe Paterno's firing over his handling of child rape allegations against an assistant coach, thousands of students took to the streets of State College, PA to protest Paterno's dismissal. Police in riot gear were called in when some of the crowd turned violent, throwing rocks and turning over media trucks, and reportedly dispersed them with mace or pepper spray.
The announcement of Paterno's firing by the school's board of trustees broke late Wednesday night, around 10:15. Penn State President Graham Spanier was fired, as well. Following the move, Paterno released a statement saying ""I am disappointed with the Board of Trustees' decision, but I have to accept it. A tragedy occurred, and we all have to have patience to let the legal process proceed. I appreciate the outpouring of support but want to emphasize that everyone should remain calm and please respect the university, its property and all that we value."
Paterno was part of a long chain of Penn State officials who failed to report eyewitness allegations of child rape by then-assistant coach Jerry Sandusky, who is now under indictment.
One subplot of the Paterno story was a tweet by Charlie Sheen substitute Ashton Kutcher, who told his 8 million-plus followers, "How do you fire Jo Pa? #insult #noclass as a hawkeye fan I find it in poor taste"

Kutcher was quickly piled on by pretty much everyone on Twitter (including me), but he later deleted the tweet, saying, "Had no idea, thought it was a football thing."
He then spent about an hour retweeting people calling him an asshole, and apologizing. He concluded, "As of immediately I will stop tweeting until I find a way to properly manage this feed. I feel awful about this error. Won't happen again."
ESPN did some excellent live reporting on the incident, including the observation that the overwhelming majority of the crowd was peaceful, and that many of them seemed to have come out just to see what was going on. Whether they got violent or not as individuals, though, there will surely be many in these TV news shots who will grow to regret taking to the streets in defense of someone who so utterly failed in his duties as a human being.
Here's a clip of ESPN's coverage, featuring footage of police dispersing the crowd from around an overturned news van:
Have a tip we should know? tips@mediaite.com