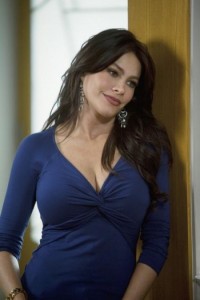 Most episodes of the very, very funny ABC sitcom Modern Family tend to weave in themes of tolerance and acceptance. But for the good people of Peru, that all went out the window last week when the feisty Colombian mother played by Sofia Vergara characterized Peruvians as a goat-tripping, human-killing people. Critics like Milagros Lizarraga of Peru USA and Beatriz Merino of Peru's People's Defender's Office have taken umbrage at the comedic slight and are demanding an explanation. "No country should have to be offended," said Merino, who wants to take the issue as far as Peru's U.S. ambassador.
The offending line from the show came when the character Gloria preemptively defended her heritage to her husband, saying:
Ah, here we go. Because, in Colombia, we trip over goats and we kill people in the street. Do you know how offensive that is? Like we're Peruvians!
This sparked an uproar on Twitter, which Vergara tried to combat by tweeting, "Get a life!!!!!!." (If Vergara is anything like the character she plays, that response is too modestly punctuated.) As The Daily Caller notes, her tweet did little to help things.
Said Peru USA's Lizarraga:
It's incredible that in a country where everything is politically correct, ABC would have a line of this sort. Many Peruvians think this is no coincidence, that she knew what she was saying, because an actress has the power to say, 'No, I can't say this because it would hurt my image,' Unless she agrees with what she said.
Neither ABC nor Modern Family has officially responded to the controversy, which, in the end, is an indication that they didn't mean what they said; if they really thought Peruvians were a murderous people, there'd surely be apologies all over the place.
Watch the offending clip below:
Have a tip we should know? tips@mediaite.com