Peter King Warns GOP Not To Shut Down Government: Americans 'Turned Off By Terror Politics'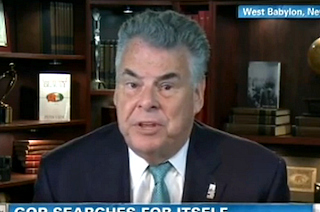 On CNN's State of the Union Sunday morning, Congressman Peter King strongly urged certain members of the Republican Party to back away from their recent rhetoric threatening to shut down the government over either the funding of Obamacare or the extension of the debt ceiling.
"There's no reason to be threatening to bring down the government," King said. "Let's make this work, let's get the spending cuts we need. But American people get turned off with the threat of terror politics."
"We should not be closing down the government under any circumstances. That doesn't work, it's wrong. Obamacare passed. We have to try to defund it, we have to try to find ways to repeal it. The fact is, we shouldn't be using it as a threat to shut down the government."
RELATED: Rep. Peter King Blasts Rand Paul For 'Apologizing For America': 'Fringes' Will 'Destroy' GOP
King also sounded cautiously optimistic on the prospects of immigration reform in the House.
"I think we have to show good faith in trying to find legislation that works, and I think we are going in that direction," King said. "The President had four years on immigration, and did absolutely nothing. I would say you've seen a lot of movement in the past six months. The Senate, with strong Republican help, a bill did pass. I don't fully agree with that bill, but I think we can find ways to make that bill work. You do find people in the House willing to make it work."
Watch the exchange here, via CNN:
—
>> Follow Evan McMurry (@evanmcmurry) on Twitter
Have a tip we should know? tips@mediaite.com