Piers Morgan Battles Pro-Gun Advocate Over Assault Weapons Ban: 'Don't Be Ridiculous! What An Absolute Lie!'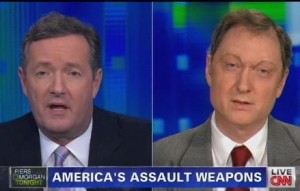 Piers Morgan faced off once again with gun rights advocate John Lott Jr. tonight. Lott's previous appearances on the show have been nothing short of explosive, and this appearance was no different, with Lott growing increasingly frustrated with Morgan talking over him, and Morgan shouting over him and telling Lott, "I'm going to keep talking, so I suggest you keep quiet."
RELATED: Piers Morgan Explodes At Gun Advocate: 'How Many Kids Have To Die' Before You Change Your Mind?
Morgan confronted Lott with statistic showing more than half of all mass shooters in from 1982 to 2012 used either high-capacity magazines, assault weapons, or both, to make the case for an assault weapons ban. Lott shot back with a study showing the effect of any assault weapons ban would be negligible. Morgan argued that it worked in Australia after one was passed following a mass shooting, thought Lott disputed the parameters of how Morgan defined mass shootings.
Lott complained that Morgan was reciting point after point and steamrolling over him with each one instead of letting him respond, practically yelling "You've been talking 80 percent of the time since the break!" Morgan coolly responded, "I'm going to keep talking, so I suggest you keep quiet." Morgan accused Lott of trying to "change the question to one that suits you" instead of answering his question. Lott called Morgan a "cherry-picker" in response.
Morgan and Lott then got into a heated back-and-forth over gun death statistics in Germany and, once again, how much Morgan was talking over Lott, with Lott growing increasingly frustrated with the interruptions.
"You want to go and talk 90 percent of the time. Sir, you haven't let me make a sentence. I have let you make many sentences here, you've talked most of the time."
Lott argued that murder stats in nations like Germany and England went up after gun control laws were passed. Morgan accused Lott of using statistics to "suit your agenda," and when Lott said murder in England is a third of what it is in the U.S., Morgan scoffed and said, "Don't be ridiculous! What an absolute lie!"
Morgan concluded the interview by insinuating Lott doesn't care about the grieving Connecticut parents, to which Lott said that he has five kids, and argued there should be shows highlighting how guns save lives.
Watch the video below, courtesy of CNN:
—–
Follow Josh Feldman on Twitter: @feldmaniac
Have a tip we should know? tips@mediaite.com
Josh Feldman - Senior Editor