Piers Morgan Clashes With Ben Ferguson Over Background Checks, Infants Getting Their Hands On Guns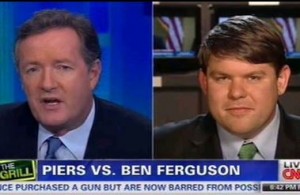 Piers Morgan brought conservative radio host Ben Ferguson onto his show tonight to take on the civil liberties debate emerging in the wake of Boston, but it quickly turned into a battle over background checks. Morgan accused Ferguson of hypocrisy in saying suspicious individuals who buy fireworks ought to be reported to the police, but Ferguson insisted no law-abiding person would sell a gun to suspicious individuals in the first place. They also fought over whether there can be any effective legal remedy for infants being given guns by parents.
RELATED: Piers Morgan And Ben Ferguson Battle Over Rights For Boston 'Terrorist': 'This Is Not A Normal American'
Morgan cited statistics showing less Americans support infringement of their civil liberties to fight terrorism after Boston than they did after previous terrorist attacks on the United States. Ferguson attributed this to a better understanding amongst the public of what technologies are appropriate to utilize in the name of fighting terrorism.
However, Ferguson did say profiling suspicions persons who make certain purchases should be encouraged amongst the public, specifically citing places where people can buy fireworks. Morgan asked why he favors this but not background checks for guns. Ferguson shot back that he doesn't support a fireworks background check, just the reporting of suspicious individuals.
Morgan asked Ferguson if he would want people flagging down suspicious-looking individuals who purchase guns. Ferguson dismissed the comparison, saying that people don't buy AR-15s illegally "and use them to commit a heinous crime." He argued that background checks would not have helped in Aurora or Newtown, and when Morgan tried to call him out for hypocrisy, he maintained that law-abiding gun sellers are not going to sell guns to suspicious people.
Morgan brought up the case of a five-year-old infant who shot and killed his two-year-old sister after receiving a gun as a present, but Ferguson attributed this simply to terrible parenting. Ferguson told Morgan he can't think of a single law that would prevent bad parents from doing stupid things. Morgan brought up other instances of infants getting their hands on guns to argue this is a more widespread problem, but Ferguson insisted no law can stop stupid people from doing stupid things.
Watch the video below, courtesy of CNN:
—–
Follow Josh Feldman on Twitter: @feldmaniac
Have a tip we should know? tips@mediaite.com
Josh Feldman - Senior Editor