Howard Kurtz Under Fire For Erroneous Report About NBA Player Jason Collins Coming Out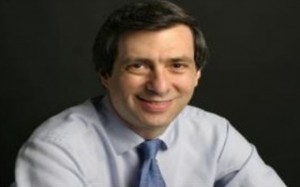 The arguably biggest piece of news in the sports world this week has been basketball player Jason Collins coming out as gay. Collins has now become the first openly gay player in major U.S. sports, but media critic Howard Kurtz thinks Collins has been quiet about one part of his past: his engagement to a woman after dating her for eight years. Kurtz stated quite clearly in a Daily Beast post today that Collins "left out" this detail about his life, but it turns out that was not exactly the case.
RELATED: Red Eye Trashes CNN's Howard Kurtz For 'Perfecting The Art Of Playing It Safe' And 'Asking Softball Questions'
The Atlantic Wire highlights the original draft of Kurtz's post making it clear that Collins never mentioned the fact he was engaged to a woman. But if Kurz had really taken the time to examine all of what Collins said this week, he would have noticed this paragraph in Collins' Sports Illustrated essay about coming out.
When I was younger I dated women. I even got engaged. I thought I had to live a certain way. I thought I needed to marry a woman and raise kids with her. I kept telling myself the sky was red, but I always knew it was blue.
Kurtz's piece was almost immediately amended to say that Collins did not omit the detail, but rather "downplayed" it. A correction was also added at the end of the post. Kurtz also tweeted an apology for getting that fact wrong, but still insists it does not undermine his overall point.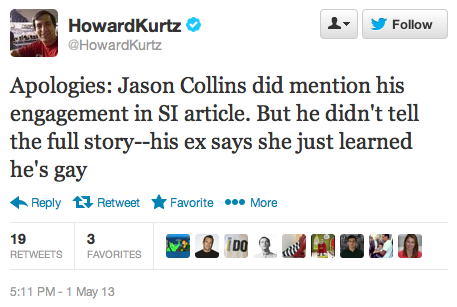 But as New York Magazine editor Justin Miller pointed out, that misses the point of the whole "coming out" thing.
Kurtz continued making his argument in a video for the Daily Download with its founder Lauren Ashburn. In the video, now removed from its YouTube page, Kurtz says that while publicly Collins' ex-fiancé is wishing him the best, she must be privately furious with him. He claims that he read the Sports Illustrated piece and says he was impressed by Collins' candor, but charges that he did not tell the whole story by leaving out the detail that he didn't actually leave out. Kurtz declares emphatically that Collins "left" out this fact, and that this gross omission that wasn't actually an omission "undermines" his attempt to appear as if he was "totally coming clean about his personal life."
Watch the scrubbed video below:
—–
Follow Josh Feldman on Twitter: @feldmaniac
Have a tip we should know? tips@mediaite.com
Josh Feldman - Senior Editor