Piers Morgan Grills Jay Carney About IRS, Benghazi: Has This Been 'Your Toughest Week' Ever?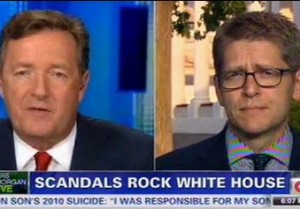 Piers Morgan put White House press secretary Jay Carney in the hot seat tonight, grilling him on how the Obama administration has been dealing with the big scandals facing it this week. Morgan asked Carney if this has been "your toughest week" in his tenture, but Carney admitted he's "enjoyed" the intensity of dealing with reporters' questions. Carney did challenge Morgan's premise, downplaying Benghazi and the IRS scandals as a Republican invention and mere inappropriate behavior, respectively.
RELATED: O'Reilly Calls Out Jay Carney For Being Dodgy On IRS, Says Scandal Could Be Worse For Obama Than Benghazi
Morgan highlighted all the negative coverage Obama has gotten this week for appearing to be too distant from the goings-on in his own administration, with the president saying at times he's learned about scandals the same time as the general public. Carney said that is a more desirable scenario than a president who was directly involved in criminal activity, touting how Obama immediately took action on the IRS after the inspector general's report was released.
Morgan pivoted to Benghazi, and while the released e-mails seem to exonerate the White House, he asked Carney if the State Department looks more culpable than they first realized. Carney dismissed the whole thing as a "faux controversy" pushed by the GOP, claiming that the e-mails show "Republicans are wrong," and that the focus should now be on finding out who did it and improving national security.
When Morgan asked Carney if he ever imagined dealing with three scandals at once, Carney took exception, saying they're not scandals. He called Benghazi a "total concoction by Republicans," and dismissed the IRS scandal as just "inappropriate behavior."
Watch the video below, courtesy of CNN:
—–
Follow Josh Feldman on Twitter: @feldmaniac
Have a tip we should know? tips@mediaite.com
Josh Feldman - Senior Editor