A local police union outside of Washington, D.C. is under fire for a Facebook post calling for a boycott of a local farm. Why? Because a #BlackLivesMatter sign was posted in a window, and this "disturbing and disappointing" poster offended an off-duty officer and his family, according to WUSA 9.
The post, which was published on Wednesday and subsequently deleted, was written by Brad Carruthers, president of the Fairfax Fraternal Order of Police Lodge 77. He argued that "this is a time in which law enforcement is the target for criticism for almost everything they do and officers are constantly questioned by the public and the media without the benefit of all the facts." As a result, signs like the posted at Cox Farms "perpetuate this kind of behavior and judgment."
Carruthers concludes the post with a call to all police supporters to boycott the farm and "go somewhere else to enjoy your family fun this fall."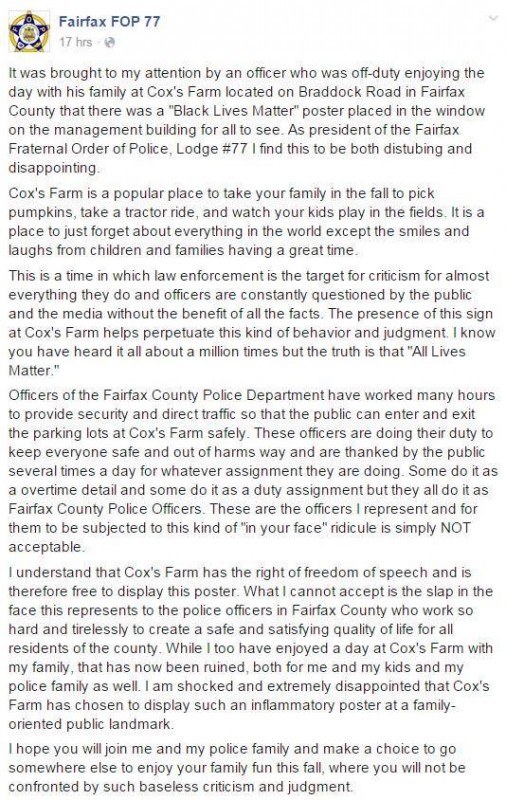 Unfortunately for the Fairfox County FOP, the Facebook post went viral and quickly attracted a great deal of online backlash.
Mike Curtis of police watchdog group Virginia CopBlock told WUSA 9, " Facebook post they made, which was removed because of the unprecedented public outrage towards their attempt to bully a local landmark and beloved destination, further reinforces the lack of trust in the Fairfax County Police Department."
In addition, Cox Farms owner Gina Cox noted that the sign wasn't even a part of their property. It's actually in the window of a nearby house that belongs to her daughter.
"It's her private property and she can put up any political sign she wants to in her yard," she said. "We treasure our relationship with our local police force, it's not anything against them at all."
In a followup Facebook post, Carruthers said that he'd removed the initial post because "its intent was being misrepresented." He also claimed that "the inflammatory nature of the comments made removing it the wiser course of action," since the vigorous defense of the #BlackLivesMatter slogan "has unfortunately also been used more recently to incite violence against law enforcement officers."
Check out the clip above, via WUSA 9.
[h/t WUSA 9]
[Image via screengrab]
— —
>> Follow Andrew Husband (@AndrewHusband) on Twitter
Have a tip we should know? tips@mediaite.com