President Obama's Smog Regulation Reneg Might Lose Him Keith Olbermann's Vote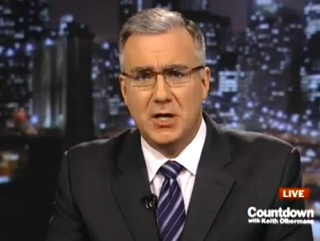 As far as President Obama's popularity has fallen, it is mostly a given that there are strong Democratic elements that would never abandon him. While this likely remains true based on the candidates running in 2012 alone, last night Keith Olbermann echoed the views of some on the left who feel abandoned by the President. For Olbermann, the last straw was a push to not implement EPA corporate smog regulations until 2013. In an extensive rant against the President, Olbermann reduced the reasons to support him to "What are you going to do, vote for Rick Perry?"
That last question was the way Olbermann broke down the Obama campaign logic, as, "during traditionally one of the quietest news days of the year," the President "hands a victory to corporate polluters" by pushing back the date in which certain smog regulations would take effect to 2013. The logic given for this move is that the regulations, having been planned some time ago, were already obsolete, and as such it made so sense to implement them during this terrible economy when they would have to be thrown out and replaced in a a few years' time.
This, to Olbermann, translated into the President "utterly caving," as the Chamber of Commerce is "thrilled" (this is a bad thing) that "if you're having trouble breathing, or if you just occasionally do breathe, kindly help the President out and hold your breath until the year 2013 or later."
Meanwhile, Olbermann narrated the fact that some Republican candidates are staking out territory in the jobs plan realm, though dismissed them even more harshly than he did the President: "the crocodile tears of the Republicans fool nobody." Not that he didn't mock the rumors surrounding President Obama's jobs plan, joking that the plan consisted in tax cuts, aid to employers, "and, like, a blender or something." He concluded by claiming the Republican candidates wanted to "reinstitute serfdom," which is not surprising, but a bit far from Square 1, which was that the President had postponed smog regulations that he agreed with and promised to apply in the future.
So, no, Olbermann doesn't seem like he's ready to vote for any Republicans quite yet, but the increasingly moderate positions of the President seem to be tempting him to have a political wandering eye– indicative, perhaps, of how the extreme progressive left that was once unconditionally approving of the President has withered into disenchantment.
The segment via Current TV below:

Have a tip we should know? tips@mediaite.com