President Obama's Super Bowl Interview With Matt Lauer: Jobs, Israel, And Tom Brady Posters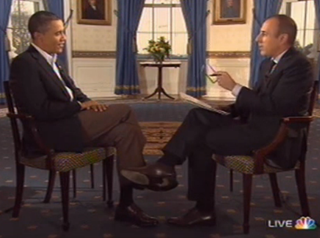 President Obama's traditional Super Bowl interview has come and gone, leaving barely two hours before the nation takes a forced respite from politics to watch the New York Giants take on the New England Patriots in what is growing to be a rivalry of several chapters. The President sat down with Matt Lauer this year in the White House and chatted about the likelihood of a good game tonight, but also answered questions about tension between Israel and Iran and made a pitch for why he deserves a second term.
RELATED: The Obama/O'Reilly Super Bowl Interview With No Questions Out Of Bounds
"We're the only guys wearing coats, you're wearing a tie," the President joked to Lauer about the Super Bowl, adding that he believed it was going to be a "great game" but that "I can't call it" because it was simply too close. Lauer tried to get him to express some support for a team by noting that the Giants had won in 2004 and 2008– the years President George W. Bush and the President himself were elected, but President Obama retorted that "you're not going to get me" and kept his lips sealed on the matter (though he did note that the women of the White House are aware that Tom Brady is "a good-looking guy").
They then went on to politics proper, starting with reports earlier in the week of a possible Israeli attack on Iran. "I won't go into the details," the President responded when asked whether he believed America would receive prior warning from Israel were they to attack Iran, "but we have closer military and intelligence consultation than we ever had with Israel." As for the possibility of retaliation from Iran on American soil, the President argued that he believed Iran did not "have the capabilities" for it, and that while he was seeking a diplomatic solution to the tension, "we're not taking any options off the table."
The last major category of questioning (excepting another interview Lauer recorded for tomorrow's Today show) was about the economy, a question Matt Lauer put simply: "Do you deserve a second term?" The President answered that of course he did, "but we're not done," and that the economic turnaround was visible but still incomplete.
The full interview (via NBC) below:

Have a tip we should know? tips@mediaite.com