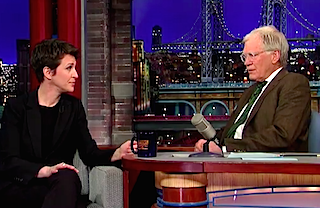 When MSNBC's Rachel Maddow visited David Letterman last night, she not only shared her views on America's "creepy" relationship with Saudi Arabia, but also weighed in on the current state of the 2016 presidential race.
Asked by Letterman why she's "eagerly anticipating" the 2016 race, Maddow said it's because "both sides are a total mess." On the right, she said the field is "so weak" that Mitt Romney thinks he might have a chance. "Like America hasn't had it's chance to say what we think about Mitt Romney yet?"
On the left, Maddow said that if Hillary Clinton ends up running more or less unopposed, that will be bad for Democrats because "if you don't have a good primary, you really can't win." But on the other hand, "If she doesn't run, it's going to be 'pick the silverware drawer out of the wall and shake it over your head crazy' on the Democratic side," she added. "Because there's no plan B if it's not Hillary."
When Letterman said that he's heard Rand Paul say things that seem to be "pure, hard-core, logical good sense," Maddow stressed that he only makes sense "sometimes." Then, of course, when Letterman brought up Sarah Palin, all Maddow could do was smile.
"Maybe the big primary contenders in the Republican Party will be Donald Trump and Sarah Palin this year," Maddow said. "In which case I will volunteer to work seven days a week and do a five hour show every day."
Watch video below, via CBS:
[Photo via screengrab]
— —
>> Follow Matt Wilstein (@TheMattWilstein) on Twitter
Have a tip we should know? tips@mediaite.com