Maddow Mocks GOP's Repeat Of 1990s Subpoenas Craze: 'It's Going To Be A Long, Hot, Stupid Summer'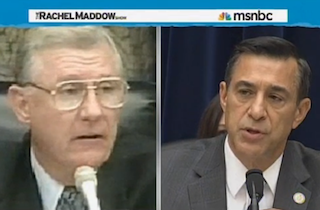 "The Summer of Subpoena is back," Rachel Maddow said Wednesday night.
Maddow took her viewers on a tour down memory lane, specifically to 1997, when House Reform and Oversight Committee Chairman Dan Burton made it his raison d'être to unseat then-President Bill Clinton, a quest that involved accusing Clinton of everything from doctoring fundraiser tapes to selling burial plots in Arlington National Cemetery. Burton also once shot a watermelon in his backyard as part of a recreation of the alleged murder of Vince Foster.
"For years, Dan Burton's whole reason for being was to try to find a way to take down the presidency of Bill Clinton using the powers of his own office in the House," Maddow said.
The most absurd of the faux-scandals involved a Christmas card the Clintons sent out in 1997. It wasn't the card that caught Burton's eye so much as the database of contact information the Clintons used to send it, which included the names and addresses of 350,000 of people they had met since moving into the White House.
"Congressional Republicans knew it was a scandal!" Maddow said, in a mock Columbo voice. "They suspected something nefarious. They thought the Christmas card list was somehow corrupt, criminal, an abuse of power. So Republicans held hearings. Republicans called up thirty-four witnesses to give depositions about the Christmas card list. They demanded more than 40,000 documents about the Christmas card list. They held days of hearings on the Christmas card list. And they accuse liberals of waging war on Christmas?"
"Despite all the hearings and the depositions and all the rest of it," Maddow continued, "the Republican investigations into the Christmas card list turned up nothing. Sometimes a Christmas card is just a Christmas card."
Of course, the man in Barton's position now is Darrell Issa, who first chased after the Obama Administration over Fast and Furious, and is currently neck deep in his own "Summer of Subpoenas" as he runs three simultaneous investigations into Benghazi, the IRS controversy, and the Department of Justice's seizure of Associated Press phone lines and a Fox News reporters' correspondence.
"If you saw this whole thing unfold the first time," Maddow said, "the plot this time will seem familiar, even if some of the faces are changed—some."
Actually, some of the faces are the same, especially then-Secretary of State Hillary Clinton's Chief of Staff Cheryl Mills, who testified on the "great White House Christmas card scandal," when she was Bill Clinton's Deputy Counsel. She is now back in front of the very same committee testifying on Benghazi.
"It's going to be a long, hot, stupid summer," Maddow concluded.
Watch the whole segment here:

—
>> Follow Evan McMurry (@evanmcmurry) on Twitter
Have a tip we should know? tips@mediaite.com