Rachel Maddow: Our 'Great Ally' Pakistan Was The 'Real Sponsor' Of Osama Bin Laden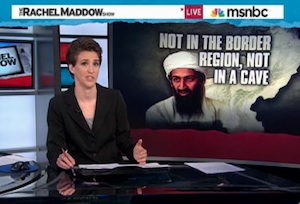 Now that Osama bin Laden has been killed by Navy SEAL commandos in a relatively lavish compound in quiet town of Abbottabad, Pakistan, political thought leaders from all political persuasions are openly wondering just how complicit Pakistan had been in hiding the former number one individual on FBI's most wanted list. From the progressive side I give you Rachel Maddow, who last night made clear that, in her eyes, "it's always been Pakistan" that has been the most active sponsor of terrorism.
Maddow appeared to recognize the bipartisan spirit of the moment and wisely avoided making any direct political hits on her ideological foes, though she did call the Iraq War a "red herring" in the so-called "war on terror," reminding viewers that this particular foreign policy doctrine was designed to take on not just the terrorist organizations themselves, but the states that sponsor terrorism.
She pointed out that the acts of 9/11 were accomplished by a number of individuals who have all been caught or captured in cities of Pakistan and that if there were a sponsor relationship between bin Laden and Afghanistan (or more to the point, the Taliban), that it was the mult-millionaire bin Laden underwriting the penniless Afghanistan and not the other way around.
It certainly seems that the foreign policy narrative that is following Bin Laden's death is "what are we to do with Pakistan," a country right now that either looks incredibly incompetent or duplicitous. Or both. And when a progressive thought leader such as Rachel Maddow casts such negatively judgmental eye towards you from her liberal perch, one gets the sense that there will be bipartisan support for anti-Pakistani efforts.
Watch the clip below, courtesy of MSNBC:
Have a tip we should know? tips@mediaite.com