Maddow Unearths Christine O'Donnell's 'Anti-Masturbation' Interview From The 90's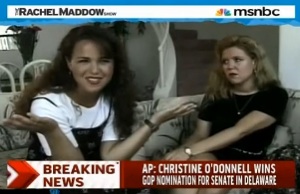 Tea Party (and Sarah Palin)-backed candidate Christine O'Donnell shocked many by winning the GOP Senate primary in Delaware tonight, enraging a good part of her own party in the process. Why are they so beside themselves at O'Donnell's win? Well, the video Rachel Maddow gleefully showed tonight while discussing O'Donnell's victory is a good place to start.
That video, Maddow explained, is from 1996, when O'Donnell spoke with MTV in support of abstinence on behalf of a group she founded, S.A.L.T. (Savior's Alliance For Lifting the Truth). Specifically, O'Donnell delves into why masturbation is wrong.
There are many reasons to love this video. The first that jumps out at you, as soon as you catch a glimpse of O'Donnell's hair: wow, this is so '90s. And just when you think it can't get any more '90s, they hit you with Joan Osborne's "One Of Us." O'Donnell talks about the importance of using our sexual desires "in God's appropriate context." One of her cohorts explains that "masturbation is a selfish act, and it's a lustful one, and we are to walk with pure hearts, not adulterous, lusting hearts."
O'Donnell also dismissed the idea of telling people that "masturbation is the answer to AIDS and all these other problems that come with sex outside of marriage" (the apparent fact that no married people have AIDS is news to us), and then delivered her best line. We won't spoil the exact wording, but know it's about pleasing yourself vs. people in a relationship pleasing each other, and that when Maddow welcomes guest Ezra Klein directly after the segment, he says, "It's gonna be hard to follow that, Rachel." Indeed it is. Video of O'Donnell's interview below.
Have a tip we should know? tips@mediaite.com