Rachel Maddow Ridicules Sarah Palin's Outrage Over White House Christmas Card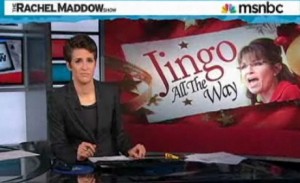 It seems like, every day, there's some bit of conservative ridiculousness that emerges to be lampooned by a long procession of cable news shows. Wednesday's version was the idiotic Fox Radio feature on the White House Christmas card, and as such, I watched about seven versions of point-and-laugh at the Sarah Palin-aided bit of silliness. My favorite take, as is often the case, was Rachel Maddow's low-key, slow burn take on the former Alaska Governor's latest defense of Christmas from nothing.
If you think conservatives get off on War on Christmas stories, that's nothing to the kick liberals get out of laughing at them. The Fox News Radio item, reported by Todd Starnes, takes issue with a White House card (that's unmistakably a Christmas card) because there's no Jesus or Christ of any kind on it. The fact that it's chock full of Christmas imagery (your red and green decorations, your presents, your poinsettias) is irrelevant, because the War on Christmas outrage has nothing to do with how Americans actually celebrate it (with decorations and customs that are predominantly not religious in nature), and everything to do with feeding a sense of religious persecution.
RELATED: Fox News Holiday Card Celebrates Success (At The Expense Of Other Networks)
What's weird about that is that Starnes complains specifically about the absence of a Christmas tree on the card, and praises George W. Bush for sometimes including Bible passages on his Christmas cards. I wonder if those ever included Jeremiah 10:
1 Hear ye the word which the LORD speaketh unto you, O house of Israel:
2 thus saith the LORD, Learn not the way of the heathen, and be not dismayed at the signs of heaven; for the heathen are dismayed at them.
3 For the customs of the people are vain: for one cutteth a tree out of the forest, the work of the hands of the workman, with the axe.
4 They deck it with silver and with gold; they fasten it with nails and with hammers, that it move not.
I'm not a religious scholar, but I'm pretty sure "heathen" isn't a compliment.
Palin, for her part, takes a weird swipe at First Dog Bo Obama's presence on the card:
"It's odd," she said, wondering why the president's Christmas card highlights his dog instead of traditions like "family, faith and freedom."
Maddow gently takes Palin on a tour of other dog-filled, Christ-less Christmas cards from white presidents ("our other not secretly Kenyan presidents" is how she put it), and deliciously reviews Fox News' own less-than-holy Christmas cards. She's a good sport about being the butt of one of those cards, and notes, "Perhaps we should call Governor Palin, though, and ask her to point out where the family, faith and freedom are in that card — or maybe we should not do that. At least we shouldn`t do that and call it news because to do that would be totally, totally idiotic."
Maybe so, but this is all damned fun.
Maybe I missed it, but all of the shows I saw mocking this story seem to have buried the lede somewhat. The first thing I thought when I saw it was, "Why the eff is Sarah Palin commentating for "FOX News & Commentary?" followed by "What the hell is FOX News & Commentary?"
The formerly megawatt Palin has, of late, frequently been relegated to opining on Fox Business Network, which is the Fox News equivalent of the Dodgeball movie's fictional ESPN 8 ("The Ocho!"). Now, she's slagging Christmas cards in web-only articles for Fox News Radio? This is no way to treat a superstar.
Here's the segment, from The Rachel Maddow Show:
Have a tip we should know? tips@mediaite.com