Red Eye Mocks Outrage Over Mountain Dew Ad: 'How Can It Be Racist It If It's Made By Black People?'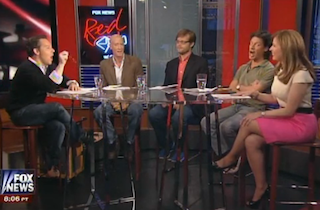 A Mountain Dew ad by Tyler the Creator has stirred a wave of controversy, triggering criticism for being racist. Greg Gutfeld recently invited his Red Eye panel to chime in on the outrage, mostly mocking the ad and some of the reaction to it. Racism aside, the panel agreed, the ad displays misogyny… and makes little sense.
"How can an ad be racist if the ad was created by Tyler the Creator, it features five members — the guys in the lineup are members of Odd Future," Gutfeld said. In other words, Bernard McGuirk, summed up, "How can it be racist if it's made by black people?"
"The world of rap is insulated from political correctness," he added. "These guys had no idea that they were committing a racist — it's more misogynist than anything else."
Thus, he said, PepsiCo thought they were safe and had cover, but clearly that ended up not being the case. Patti Ann Browne took issue with how the company touted that Tyler is known for pushing boundaries and has a point of view, noting that she didn't "get it" nor did she understand his point.
"What is the message?" she asked. That a waitress should be sure to serve a goat a Mountain Dew? That remark elicited amused reactions from the rest of the panel — as Gutfeld and Will Rahn went on to view the whole episode as an "exercise in faux outrage."
The discussion then took a turn toward the world of rap in general, in terms of its misogyny and general exemption from political correctness. After which point, much of the panel turned into mockery of the ad and the controversy surrounding it.
Much of the panel, it appeared, simply didn't get the point of the ad, as Browne mentioned — a point Andy Levy agreed with during his Halftime Report. "There was nothing important to say here," he agreed. "It was a stupid commercial for a stupid drink."
Watch below, via Fox News:

Have a tip we should know? [email protected]