Reince Priebus Fires Back at Critics: 'Dull, Boring' GOP Bad for the Country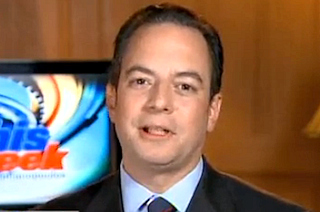 RNC Chairman Reince Priebus appeared on ABC's This Week with George Stephanopoulos Sunday morning and defended the state of the Republican Party against critics who have detailed in-fighting and extremism.
"A healthy family debate is not a bad thing at all," Priebus said, responding to a Politico article that called the GOP's mood over intra-party fighting "morose." "I don't think at a time, when we just came off of a presidential election, that having a party that is just dull and boring, is something that is good not just for our party but for this country."
Of the Republican National Committee's recent summit in Boston, Priebus said, "We had a very positive meeting. There was peace, and there was debate, and everyone left energized about the future of a party that is drastically changing its approach to politics."
Host George Stephanopoulos plied Priebus with criticism from within his own party, like former Mitt Romney spokesman Eric Fehrnstrom, who called Priebus' spat with CNN and NBC a "loser's game."
"I don't know if his etch-a-sketch is on tilt," Priebus said, referring to Fehrnstrom's famous "etch-a-sketch" comment about the difference between primary and general election politics. "I'm not really taking advice from Eric Fehrnstrom right now."
Priebus finished by promising more GOP outreach to minorities, boasting of the number of hires dedicated to promoting field operations in communities previously overlooked by Republicans. "You can't be a national party that shows up five months before an election and expect to move mountains," Priebus said.
Watch the full segment below, via ABC News:
————
>> Follow Evan McMurry (@evanmcmurry) on Twitter
Images via ABC News
Have a tip we should know? tips@mediaite.com