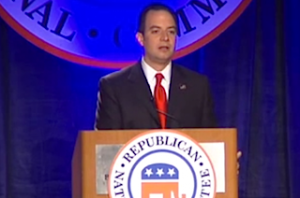 In his speech leading up to the RNC's unanimous vote to boycott CNN and NBC debates over those company's plans for Hillary Clinton films, Chairman Reince Priebus laid out his reasons for opposing the "obviously biased" networks. At one point, Priebus even held up Mediaite's recent report that Alec Baldwin would be hosting a weekly show on MSNBC as proof that NBC's news and entertainment divisions are not as separate the company claims they are.
"We say to the media with a united voice," Priebus declared to the RNC Meeting audience, "that a network that spends millions of dollars to spotlight Hillary Clinton, is a network with an obvious bias. And that's a network that won't be hosting a single, Republican primary debate."
Priebus highlighted "liberals," like The New York Times' Maureen Dowd, who declared her support for the planned boycott. "After we took a stand we found some unlikely allies. Did you ever think you'd read in the New York Times Maureen Dowd writing 'Reince is Right'?" He also alluded to the reporters from the networks, such as NBC's Chuck Todd and CNN's Candy Crowley, who have each expressed their concerns about the Clinton projects.
But Priebus' most unexpected justification came in the form of his comments on Baldwin:
"The networks can talk all they want about the lines between their divisions. But the same week that people at NBC promised that NBC News was different than NBC entertainment are separate — that very same week they made that argument, they announced that they are giving a primetime MSNBC slot to Alec Baldwin. We don't have time for the media's games."
The Baldwin talk show has not been officially announced by MSNBC, but Priebus appears to be implying that the actor's previous role on NBC Entertainment's 30 Rock is directly connected to his potential role as an anchor on MSNBC. But isn't it a big leap to use this example to demonstrate how NBC Entertainment's fictional Hillary Clinton mini-series would influence NBC News' coverage of the 2016 election?
Watch video below, via WFB:

[
photo via screengrab
]
—
>> Follow Matt Wilstein (@TheMattWilstein) on Twitter
Have a tip we should know? tips@mediaite.com