Audience Members Of GOP Debate Boo Steven Hill, Gay Soldier Serving In Iraq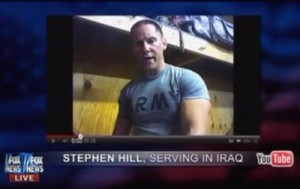 At Thursday night's Fox News/Google Republican Presidential Debate, the crowd was once again the star of an ugly moment. Moderator Megyn Kelly introduced a question via Youtube from Stephen Hill, a soldier who's currently serving in Iraq. When the man asked what the candidates would do about the US policy on gays in the military, like himself, several in the crowd booed loudly. When candidate Rick Santorum replied that he would reinstate DADT, a thunderous ovation followed.
"Do you plan to circumvent the progress that has been made for gay and lesbian soldiers in the military?" Hill asked, to several loud boos, and silence from the rest of the crowd. There was no applause when his service to our nation was mentioned, and the crowd thunderously approved of Santorum's answer, that he would reinstate "Don't ask, don't tell."
From the look of him, I doubt very much anyone in that audience would have booed him to his face.
It's also a bit surprising that none of Fox News' moderators saw fit to react, to appeal to their collective sense of decency, and say, "You are booing an American soldier?"
Update: Conservative blogger Sarah Rumpf, who was at the debate, tweeted me to say "Only a few booed. Many shushed & hissed at booing."
I'll take her word for it that there was shushing and hissing, but watch the video for yourselves, and decide whether or not this was a disgrace.
Here's the clip, from Fox News:
Update 2: Christopher R. Barron, Chairman of the Board and Jimmy LaSalvia, Executive Director of gay conservative group GOProud have released a statement demanding an apology from Rick Santorum, to Stephen Hill:
(Washington, D.C.) – "Tonight, Rick Santorum disrespected our brave men and women in uniform, and he owes Stephen Hill, the gay soldier who asked him the question about Don't Ask, Don't Tell repeal, an immediate apology.

"That brave gay soldier is doing something Rick Santorum has never done – put his life on the line to defend our freedoms and our way of life. It is telling that Rick Santorum is so blinded by his anti-gay bigotry that he couldn't even bring himself to thank that gay soldier for his service.

"Stephen Hill is serving our country in Iraq, fighting a war Senator Santorum says he supports. How can Senator Santorum claim to support this war if he doesn't support the brave men and women who are fighting it?"
Have a tip we should know? tips@mediaite.com