RESULTS ARE IN: See Who Won Our Poll For the Best Show at 9 P.M.: Sean Hannity, Rachel Maddow or Chris Cuomo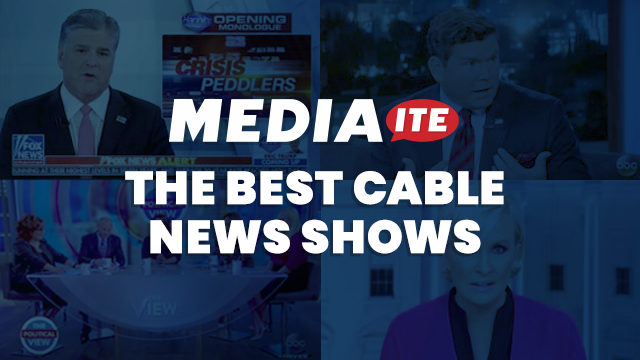 We did something a little different for our ranking of the best cable news show at 9 p.m.: we punted to our readers.
We explained our thinking in a post last week, after outlining the strengths of Sean Hannity, Rachel Maddow and Chris Cuomo's shows: They occupy such drastically different silos of the cable news sphere that it's almost impossible to find common points of measure by which to compare them.
Star CNN host Chris Cuomo covers the news aggressively and interviews figures on the right and left, never straying from a fight on his new show Cuomo Prime Time.
Nonetheless, Cuomo's show is still in its infancy and working out the kinks — going up against the two biggest broadcasters on cable news is no easy feat. Case in point: while his show has boosted CNN's ratings in the hour, he's regularly doubled by Hannity and Maddow. But if he keeps breaking news (shoutout Lanny Davis) and landing big name interviews (where's Giuliani?), Cuomo can hone the polished broadcaster schtick on his own.
Hannity has been on the air for Fox News for 20 years, and since the ouster of longtime ratings champ Bill O'Reilly from the network, has easily cemented himself as its king. He gets mind-boggling numbers, regularly notching more than 3 million viewers, sometimes hitting the 4 million mark, far eclipsing rival Maddow. And thanks to President Donald Trump's loyal patronage of his show and their regular chats, Hannity can legitimately dictate a news cycle just based on the positions he takes.
He could use a little guest diversity — instead of relying on the same handful, from Sara Carter to Seb Gorka, every night. Either way, whatever Hannity is doing (we suspect his decades-long career with a microphone has made him simply the best broadcaster on television) is working, and we'd be cautious to mess with a winning formula.
Like Hannity, Maddow is a natural broadcaster who got her start in talk radio. As MSNBC's top anchor, she breaks news, lands massive guests, and is the network's go-to for hard-hitting interviews and historic events. Her openers are exceptionally well-crafted, setting the scene for an hourlong broadcast that keeps up its momentum throughout. She occasionally flubs, like when she overhyped a story on Trump's tax returns. But overall, Maddow runs MSNBC, and thanks to the unrivaled quality of her show and prowess as an anchor, has emerged as a powerful thought leader challenging the current administration.
Now to our reader poll. With 14,455 votes tallied, Rachel Maddow came in first with 58 percent of the vote, Hannity placed second with 35 percent, and Cuomo third with 7 percent.
What is the best cable news show at 9 p.m.: The Rachel Maddow Show, Hannity, Cuomo Prime Time? Our ranking drops this afternoon. VOTE HERE:

— Mediaite (@Mediaite) October 19, 2018
Tune in next week for our 10 p.m. rankings!
Have a tip we should know? tips@mediaite.com