Richard Dawkins On Real Time: 'I'm Sure Obama is an Atheist and I'm Sure Kennedy Was'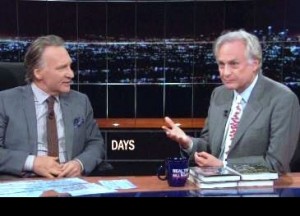 Oxford professor and celebrity atheist Richard Dawkins joined Bill Maher Friday night to talk about his personal evolution from theism to atheism, why a scientific view of the universe does not entail a series of random events, and which public figures he believes are secretly atheists.
Maher and Dawkins agreed that people like them are often called "militant" atheists, when, in fact, the real problem people have with them is their "clarity" and how steadfast they are on these issues. Dawkins acknowledged he used to be religious, adding, "When I became a man I put away childish things."
Dawkins dispelled some truly erroneous myths about science and atheism, said that something as simple as a sneeze can change the fabric of human history, and shared this colorful metaphor for the creationists.
"If you believe that the world is only 6000 years old, as some of these people do, given that the true age of the earth is 4.6 billion years, it's equivalent to believing the width of North America is eight yards."
Maher asked Dawkins if he subscribes to Maher's theory that Pope Francis is an atheist. Dawkins said, "I'm sure Obama is an atheist, I'm sure Kennedy was an atheist, but I doubt if Pope Frank is." He said the fact this new Pope is "nice" is "dangerous," because he still subscribes to the same religious system as previous Popes, just with a softer tone.
Al Sharpton shot back, "I think he makes it harder for atheists to dismiss religious people as being people that are so in the past and limited and don't think."
Maher concluded, "Gay marriage, pot, religion's the next one to fall."
Watch the video below, via HBO:
[photo via screengrab]
— —
Follow Josh Feldman on Twitter: @feldmaniac
Have a tip we should know? tips@mediaite.com
Josh Feldman - Senior Editor