Rick Santorum Says He Only Endorsed Mitt Romney In 2008 Because He Didn't Like John McCain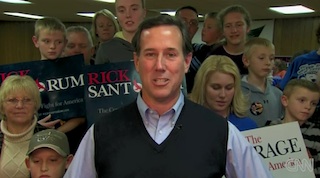 Last night, Rick Santorum appeared on CNN to discuss his recent surge in Iowa. The former Senator has been the latest candidate to steal the GOP heat away from Mitt Romney but the old standby hit back on Monday, reminding voters that he had received Santorum's endorsement back in 2008. Santorum defended this endorsement to Wolf Blitzer, pointing out that he'd made it as late in the 2008 race as possible and only because he was looking for literally anyone who was better than John McCain.
That's weird. It's basically the same reason people are now flocking to him!
"First off, I endorsed Mitt Romney, I think, five days before Super Tuesday. I didn't endorse anybody for a long time. My focus in the 2008 election was on making sure we had someone other than John McCain. That is what I was publicly stating because I thought that he would not be a strong candidate for us in the general election and I didn't think he'd be the best candidate for us to do the things that were necessary for this country. And so, my principle purpose, I said this from the very beginning, was to wait and see who was the best able to beat John McCain when the time came."
Romney had also attacked Santorum for being a "Washington insider" (not that there's anything wrong with that!). Santorum responded to this charge by echoing the words of the last Non-Romney candidate to surge, Newt Gingrich. He told Blitzer that the only reason Romney wasn't a career politician was because he'd failed at it.
Watch the clip from CNN below. And kudos to whichever directer decided to show Romney's quote in split screen so we got to watch Santorum's forced, rictus grin as he listened to it.
Have a tip we should know? [email protected]