Santorum To John King On Birthers: 'I Don't Feel An Obligation' To Refute Them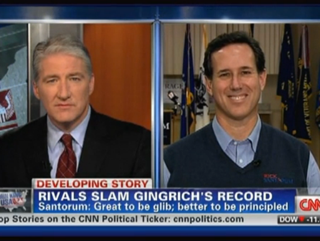 Rick Santorum comes into tonight's debate at a fluid third, the place he held in the South Carolina primary. And he comes into it with the image of being the most solidly conservative candidate in the race, which is both a blessing and a curse. During a rally today, Santorum was confronted with the ugliest part of that side of the aisle– supporters of his who think President Obama is Muslim– and on CNN tonight, John King asked him to explain his response to the lady, which completely dismissed her comments.
The interview started off tense, as King asked whether his comments on whether the race had become one exclusively between Mitt Romney and Newt Gingrich was something he refuted. Santorum noted that this was the meme because "the media always tries to make this a two-person race," to which King interjected, "that's not the media, that was you," while reading the quote back to him and reiterating, "that wasn't us." Santorum noted that the quote was a response to a question from the media, however, and the interview moved on to Gingrich's claims to being a "Reagan conservative" and how Santorum felt about his assumption of that title.
RELATED: Honorary Chairman Of Rick Santorum's Florida Campaign: Gays 'Make God Want To Vomit'
King culminated the interview with a final question on an occurrence at a Santorum event today, however, in which a woman at the event refused to call President Obama the president because "he's legally not the president," and that "he is an avowed Muslim" (King was generous to label it a "pretty out there attack"). Santorum only responded to the lady that he was "doing my best to try to get him out of the government, and you're right about how he uniformly ignores the Constitution." King used it as a launchpad to ask whether Santorum believed he had a responsibility to call people out who say such things at his events.
"I've repeatedly done that, but I don't think it's my obligation every time someone says something I don't believe to contradict them," Santorum responded, adding that President Obama "is a big boy and he can defend himself and his record." King once again asked whether that was still enough for him– "you don't feel an obligation to say, 'Ma'am, let's fight him on taxes, let's fight him on spending, let's fight him on the size of government but let's not do that'?" Santorum repeated that he did not think President Obama was a Muslim, "but I don't think it's my obligation to go out and repeat that every time someone who feels that way says something."
CNN's report on their website described Santorum's reaction to the lady, "I'm doing my best to try to get him out," as Santorum "ignoring" her claim that the President is a Muslim– which, while accurate by definition, does have a connotation that Santorum and his supporters could interpret as an attempt at portraying him as sharing her beliefs, or at least being comfortable with them. The video King showed on his program demonstrated more of a dismissive attitude than one of tacit acceptance, since Santorum, taken by surprised, seems to answer the safest platitude possible as quickly as possible to not give the claim any further attention. Nonetheless, American voters– as the 2008 election taught us– have zero tolerance for birther/anti-Muslim bigotry nonsense. Calling the President a Muslim wasn't a good campaign strategy when he was a junior Senator; with the long-form birth certificate out there and the rise and fall of Donald Trump and is "people in Hawaii," this talk is unacceptable and never not worthy of mockery.
Santorum's exchange with King via CNN below:

Have a tip we should know? tips@mediaite.com