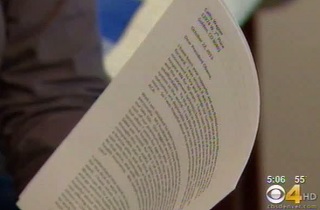 The latest Obamacare horror story to make the rounds of conservative media is a report from CBS News Colorad's Shaun Boyd about retired nurse Cathy Wagner, who wrote a letter to President Obama because she got a cancellation letter from her insurance company, and was offered a plan that cost 35% more, and had a higher deductible. As with other Obamacare "sticker shock" stories, Boyd omits many key details from her reporting, and the headline, "Colorado Woman Who Championed Obamacare Loses Insurance Plan," is pretty damned irresistible.
In her report, Boyd reveals that Cathy Wagner  "says she isn't political and has never written a lawmaker, much less the president, but with Obamacare she felt compelled." From CBS4:
"I really just wanted him to know … I was so hopeful that this plan was going to move us forward, but in fact I think it's moving us backward," Wagner said.

Wagner and her husband retired early. She was a nurse for 35 years and championed Obamacare, until she received a letter from her insurance company saying it was canceling her policy.

"I was really shocked … all of my hopes were sort of dashed," Wagner said. "'Oh my gosh President Obama, this is not what we hoped for, it's not what we were told.' "

She was shocked further to learn that for the same coverage she would pay 35 percent more and have a higher deductible.

"Our premium for next year is going up to over $1,000 a month for two of us and we're two fairly healthy individuals," Wagner said.
Based on the very limited information given, that means Cathy Wagner was paying somewhere between $750-$800 a month before Obamacare. What Boyd doesn't reveal (as has been the case with many of these stories) is that many Americans qualify for subsidies to cover a portion of that premium, or whether Cathy Wagner and her husband qualify. In their case, if they make $62,000 a year, they'd qualify for a subsidy that would absorb that 35% premium increase, and then some. At $50,000 a year, they'd get half of their premium paid for. Boyd also says that new premium is for "the same coverage," which is obviously not the case, or Wagner's old plan would not have been canceled.
The outpouring of Christian sympathy from the right has been touching, with achingly tender headlines like:
Luckily, things might not be as dire for Cathy Wagner as they seem. Although CBS4 took the time to include some B-roll of health insurance exchange websites, it doesn't look like they bothered to check. According to Connect for Health Colorado, there are 30 different plans for couples over 50 for under $1000 /mo., including eight that are about the same or cheaper than what Wagner was paying before (starting at $622.12 /mo.), with deductibles ranging from $1750 to $6750 per person. As reporters should be learning, insurance companies rarely include the least expensive option in their cancellation letters.
That is not to say that Cathy Wagner might still end up paying more than she was, or still feel that the President owes her more than the apology he offered, but it is yet another example of the relentlessly bad reporting on Obamacare.
(h/t Sister Toldjah)
Have a tip we should know? tips@mediaite.com