Romney Surrogate Laughs At Andrea Mitchell As She Attempts To Defend Obama Administration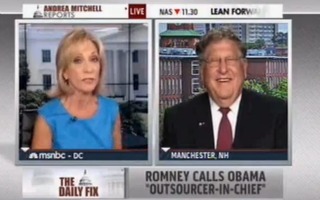 Surrogate for Mitt Romney's presidential campaign and former Republican New Hampshire Gov. John Sununu appeared on MSNBC's Andrea Mitchell Reports on Tuesday where he engaged in a heated exchange with Mitchell over extending the Bush tax cuts as well as which candidate is more damaged by charges that they outsourced jobs. Sununu laughed at Mitchell several times and accused her of "struggling" to defend the Obama administration from the charge that they presided over the same outsourcing that PolitiFact and Washington Post fact checkers said Romney never did.

RELATED: John Sununu On MSNBC: There's 'Wisdom' In Romney's Police/Firefighters Comment
Mitchell first asked Sununu what he thought of a push back by the Romney campaign against President Barack Obama for attacking him on the issue of outsourcing when his administration has presided over the outsourcing of jobs as well during the auto sector restructuring and in stimulus grants.
"The outsourcing issue really causes two problems for President Obama," said Sununu. "It underscores his dishonesty." Sununu said that the Obama campaign ad that attacks Romney for outsourcing has been called dishonest by independent fact checking organizations. "The outsourcing issue underscores how few smarts there are in this White House and in this Obama campaign."
Mitchell asked if, despite the fact checking claims of dishonesty in the Obama ads, outsourcing is "still a winning issue for the Obama campaign." Sununu challenged Mitchell's suggestion that the Washington Post and PolitiFact were merely raising questions about the Obama ad. "They said it was wrong," said Sununu. Nevertheless, Mitchell said that Romney is more vulnerable to the outsourcing attacks due to his background in the financial sector.
Sununu laughed. "No," he said. "When you send $500 million to Frisker and it goes to Finland immediately. When you send the solar money and it goes to Mexico, when you send the turbine money and it goes to Denmark – and we can go on all day."
Mitchell challenged Sununu on his assertion that $29 billion in taxpayer funds went to outsourcing before he cut her off.
"When you do a grant, Governor, there are jobs here as well as overseas," said Mitchell.
"You're struggling, Andrea," Sununu laughed. "You're struggling."
"These are competing claims and we will get back to you with all of the numbers," said Mitchell.
"Sure," Sununu replied, still laughing.
Sununu offered to move on to the number of small business that was taxed under Obama's latest proposal to extend only a portion of the Bush tax cuts. He said that the smaller businesses that were going to have their taxes raised are the largest of those "small business" which also crate the most jobs.
"It's interesting that the President again choses to demonstrate why he has ruined this economy," said Sununu.
Mitchell asked why Republicans won't pass the tax cut extension now and deal with high income earners after the election. Sununu asked Mitchell why Democrats in the Senate won't pass it either.
"You're talking about senators in close races who are clearly not going to support what the President is doing here," said Mitchell.
Sununu said that this is another example of a desperate attempt at class warfare by President Obama which is why "he is going to lose."
Watch the exchange below via MSNBC:
> >Follow Noah Rothman (@Noah_C_Rothman) on Twitter
Have a tip we should know? tips@mediaite.com