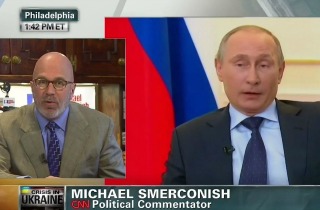 It's a scene that has played out across the cable news spectrum over the past two weeks. The all-purpose contributor who is paid to be competent and versatile on a range of issues is tasked to share their take on the unfolding crisis in Ukraine, only to discover too late that he is well outside of his depth.
A number of pundits are guilty of having to fake it now and again, so singling out SiriusXM radio personality and future host of CNN's Smerconish, Michael Smerconish, is somewhat unfair. But his segment on the topic of Russia's invasion of the Crimean peninsula on Tuesday with anchor Wolf Blitzer as so indicative of this phenomenon, it cannot go unremarked upon.
Smerconish was invited onto CNN's Wolf to definitively determine whether Republicans had been too harsh on President Barack Obama for his handling of the crisis in Ukraine and of America's relationship with Russia more generally.
"I agree that the criticism has gone too far," Smerconish declared. "Particularly where it's offered, as far as I can discern, without any alternative."
"I really haven't heard anything substantive as to what he should do," Smerconish continued. He then attempted to divine the "implication" that Republicans criticisms were leading to, which was, in his opinion, to pursue a military intervention with Russia – a course which no one with any policy credentials has advocated.
This was less of an indictment of Republicans and more of an admission that Smerconish is not qualified to speak on this subject. Just hours after Russian armed forces crossed into Ukrainian territory, Sen. Marco Rubio (R-FL) published in POLITICO Magazine a list of eight specific recommendations for the president to pursue in order to punish the Russian government both economically and diplomatically. Only a handful of those steps he recommended have been adopted by the administration.
This assertion from Smerconish was even too much for Blitzer to handle. The anchor specifically cited "three or four points" submitted by Sen. John McCain (R-AZ), many of them recommended by Rubio, which the administration has not yet pursued.
But, oddly, Blitzer agreed that Smerconish was somehow correct in his assertion and added that the GOP has largely criticized the president for failing to follow up with the consequences associated with his stated "red line" for action in Syria. But this line of criticism, Smerconish insisted, was both legitimate and justified.
"My own impression is that Vladimir Putin wouldn't have been impacted, regardless of what we had done in Syria," Smerconish declared.
Once again, Blitzer came to Smerconish's rescue. He provided his guest with a layup, noting that Putin had acted militarily against the Republic of Georgia unilaterally in 2008 and had no recent examples of shirked "red lines" at the time to motivate him. Rather than take this lifeline, however, Smerconish had other plans. He let loose with what appeared to be a carefully crafted observation about the Russian psyche.
"It's hard for me not to reflect on Sochi and to think about the opening and the closing exercises, which seemed to be a real nostalgia play by Putin, to the extent he had a hand in what messaging was," Smerconish said. "And I wonder if, from a foreign policy perspective, this too isn't a nostalgia play."
This, one could charitably suggest, is a slightly less incisive way of suggesting that the historic Russian empire still regards Ukraine, the epicenter of Slavic culture, as a key regional component. And that Russian nationalism, a philosophy to which Putin is an avowed subscriber, still reels from the disintegration of the Soviet Union. And that Olympic opening and closing ceremonies, which are always have been and likely always will be "nostalgia plays," are revealing of both national origin mythology and aspirations for the future – particularly in nations with undemocratic forms of government which often appeal to nationalism as a source of internal political cohesion.
This could have been what Smerconish would have said if he was a Russian policy analyst. But he isn't. He's a radio talk show host with a focus on domestic American politics, and a good one at that. It's not his fault he was drafted to opine on a matter slightly outside of his skillset. But this is a crime of which most of cable news is guilty.
Appearing on MSNBC on Tuesday, former U.S. Ambassador to Russia Michael McFaul was asked if the United States had any diplomatic options available to it that could peacefully dislodge Russian troops from the Crimean peninsula. McFaul's response was perfect.
"I don't know," he said. "I honestly don't know and don't believe there's anybody that knows."
That kind of admission is how you know you're listening to an expert in their field.
Watch the segment below, via CNN:
[Photo via screen grab]
— —
> >Follow Noah Rothman (@NoahCRothman) on Twitter
Have a tip we should know? tips@mediaite.com