Rudy Giuliani's Takeover Of The Trump Administration Foreshadows Its Downfall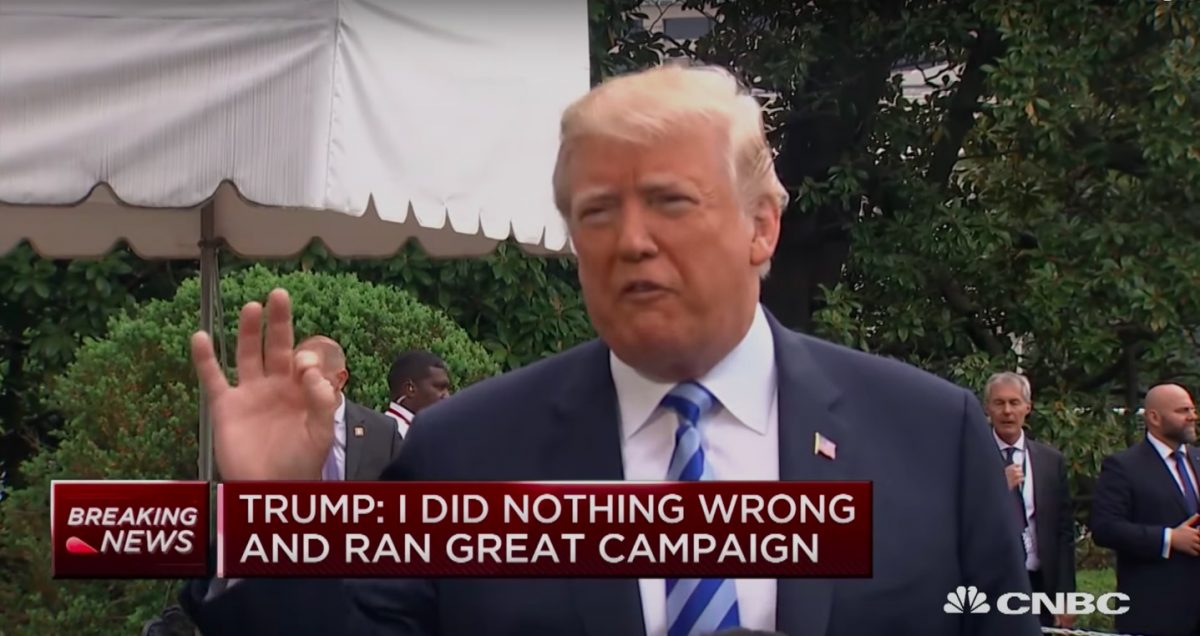 President Donald Trump's new attorney, former New York Mayor Rudy Giuliani, did not join his legal team to make any new friends in Washington.
In just a few short days since news broke that Giuliani would serve as the face of the president's outside legal counsel, he's officially thrown the Capital into disarray. Federal appointees like White House Press Secretary Sarah Huckabee Sanders have been left out of the loop on his explosive media appearances and major changes to the president's public statements surrounding an alleged affair — and resulting gag order — with porn star Stormy Daniels.
Giuliani also represents an apparent shadow government of former Trump aides, Fox News conspiracy theorists and conservative millionaire donors; many of whom have the president's ear and speak to him on phone calls about developing his agenda regularly. But if anything is clear from the attorney's chaotic public entrance into the Trump era, it's that he has no intention in helping the president continue a full-term.
In fact, it appears Giuliani has already lit the match that will eventually burn Trump's White House to the ground.
After revealing on Fox News Wednesday night that the president was in fact aware of payments his attorney Michael Cohen made to Daniels during the 2016 election — despite Trump previously claiming not to have any knowledge about the hush money —Giuliani boasted about how the decision was made to the Washington Post.
"[Trump] was well aware that at some point when I saw the opportunity, I was going to get this over with," he said. And yet, despite the president being aware of the monumental reversal in his own statements, he decided not to inform the White House press office about the bomb they'd soon be forced to face. That left folks like Sanders scrambling to come up with a defense for themselves, with the press secretary claiming to present "the best information available" to her when she previously denied the president was aware of the potentially illegal payments. For any halfway thinking person, the question then becomes: was it she or the president who lied to the American people?
Sanders wasn't the only one to have been blindsided by Trump's knowledge about the arrangement, however: White House counsel Don McGahn was also reportedly unaware until Giuliani sat down with Fox News' Sean Hannity on Wednesday.
Perhaps even more telling about the president's reckless abandonment of his own administration is the fact that his newest White House lawyer, Emmet Flood, was also reportedly unaware that he knew about the payment — and that Giuliani would be revealing just that on national television. Flood, a prominent Washington attorney who represented former President Bill Clinton throughout his impeachment, was appointed to Trump's White House legal counsel this week. He replaced attorney Ty Cobb, who took an amenable approach to the Mueller investigation and seemed to be encouraging the president to conduct a sit-down interview.
The same night Giuliani went on Fox News, he also met with Trump's former campaign manager Corey Lewandowski to discuss "political strategy." White House aides have reportedly attempted to keep Lewandowski — who joined Trump on stage at a Michigan rally last week — as far away from the president as possible during his tenure in office.
There's no telling what fate may hold for Mueller's investigation with Giuliani now in the picture: certainly, no one in the White House has any idea whether he'll eventually urge Trump to fire the Special Counsel. The two have begun developing their own strategies without the assistance of the president's aides and have failed to fill federal officials in ahead of time before pulling the trigger on major news announcements. On top of it all, Giuliani has already began stepping all over diplomatic relations, wrongly claiming North Korea was set to release American hostages and forcing Sanders to walk those comments back in yet another bizarre and unprecedented press conference.
At this point, it seems likely that if there had been any means for White House Chief of Staff John Kelly to control — or at least reduce — Trump's impulsiveness and affinity for chaos, that's gone out of the window. The president doesn't appear to be concerned enough, or even willing, to work with his own administration in developing talking points and responses to his own near-daily scandals. The president defended Giuliani on Friday morning, telling reporters before departing for the National Rifle Association convention: "He started yesterday. He'll get his facts straight. He's a great guy."
The attorney then released a statement clarifying his previous comments made in the press, walking back his claims that Trump was aware of the payment while asking on Fox & Friends, "Imagine if that came out on Oct. 15, 2016, in the middle of the last debate with Hillary Clinton?"
The already minuscule amount of attention the president gave to matters of national importance seems to have now been replaced with an even greater need on his part to manipulate the media regarding the Daniels payments. Whether this indicates Trump knew more than he previously let on remains unclear for now, but Cohen's corruption investigation in Manhattan could yield more answers than anyone has been willing to provide the public thus far.
Perhaps that's why Trump's advisors have concluded the Manhattan investigation is more life-threatening to his presidency than Mueller's, according to the New York Times. Trump is still hell-bent on attacking the Russia probe as a "WITCH HUNT!" on Twitter, but at his core it appears as if he's become consumed by his newly-emerging and fast-approaching crisis in New York.
His actions show he's more focused on his priorities in New York City than Washington. And with Giuliani just a few days at Trump's side as his attorney in the limelight, it seems implausible that the president will go on leading the country like this. With a potential Democratic takeover of Congress in 2018 and the ramping up probe in Manhattan that could reveal a violation of federal election laws, the only thing Trump seems to be leading is his own way out of the Oval Office.
Whether Trump remains in Washington until 2020 is anyone's guess — but the end of his presidency has already been signaled.
[image via screengrab]
—
Follow Chris Riotta (@ChrisRiotta) on Twitter
This is an opinion piece. The views expressed in this article are those of just the author.