S.E. Cupp, Donny Deutsch Share Theories About Obama's 'Testosterone'-Fueled Response On Susan Rice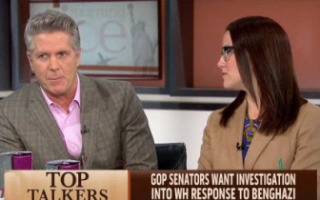 On Thursday, the Morning Joe panel turned its attention to President Obama's response to questions concerning Susan Rice's comments on Benghazi, and some Republican Senators' with rumors that she is being considered for the role of Secretary of State. The President had told the press that, ultimately, the buck stops with him, not Rice, and to "go after me."
RELATED: President Obama To Senators Attacking Ambassador Susan Rice: 'Go After Me.'
Panelist and MSNBC host S.E. Cupp had a theory about the President's strongly-worded response:
I think it's a little bizarre. The indignation over questioning Susan Rice is a little bizarre given that she was made, by the President's own admission, the spokesperson on that day for what happened in Benghazi. She was sent out to the Sunday shows — five of them, five days after Benghazi, and five days after we already had some pretty good intelligence about what happened in Benghazi — and either made completely false statements or misled the public.

So when the public held that spokesperson responsible for the things that she said, the indignation that came back was a little misplaced, I think.

The other thing I would say is there's been a lot of reading into that moment at the press conference and whether that means Obama is going to be appointing Susan Rice now or not. And I think — I would actually read into that that he probably isn't. I think that that defense was so full-throated because he does not plan to appoint her and doesn't want to be accused of sort of caving to Republican pressure. So I think he came out so strongly so that when he doesn't appoint her and goes with someone like John Kerry or even Tom Donilon, his defense is already on record.
Fellow panelist Donny Deutsch then noted how the President's response yesterday seemed to indicate "a heightened level testosterone" and "gravitas," perhaps setting a precedent for the next four years.
Have a look, courtesy of MSNBC:
Have a tip we should know? tips@mediaite.com