Scarborough and Lawrence O'Donnell Get in Heated Battle over 'Hands Up, Don't Shoot'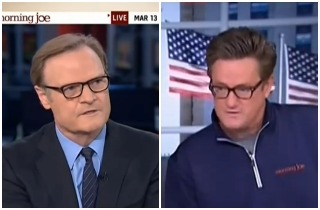 Joe Scarborough and Lawrence O'Donnell got themselves into a heated back-and-forth on Morning Joe on Friday morning over the Department of Justice report that said "hands up, don't shoot" was not exactly an accurate way of describing what happened during the confrontation between Michael Brown and former Ferguson police officer Darren Wilson.
Before concluding an interview with St. Louis Police Officers Association spokesman Jeff Roorda, Scarborough quickly asked whether the St. Louis Rams have apologized to him for their "hands up, don't shoot" gesture that caused a lot of controversy last year. The argument over "hands up, don't shoot" is one that Scarborough has found himself entrenched in more than a few times in the past.
"Have the St. Louis Rams contacted you guys and apologized since Eric Holder agreed with your side of the story?" Scarborough asked Roorda. O'Donnell then chimed in immediately: "Eric Holder doesn't agree with the officer's side of the story. Eric Holder's report says they didn't see that they could make a case beyond a reasonable doubt that they could get a conviction of the police officer."
–RELATED: Hannity's Interview with Ferguson Protester Goes Off the Rails Fast
Scarborough quipped back with his own reading of the DOJ report, saying there was no credible, forensic evidence that Brown had his hands up. O'Donnell said, though, that the report did not "disprove" that assertion, but rather said it could not be proven beyond a reasonable doubt — a concept he doesn't think Scarborough understands.
"Thank you so much for giving me a lecture on the law," Scarborough said to a stone-faced O'Donnell as the segment was ending.
Fox host Megyn Kelly railed against the media on Thursday night for basing their coverage of Ferguson on the "lie" that Brown had his hands up and was surrendering to Wilson.
Watch the video below, via MSNBC:
[h/t NewsBusters]
[Image via screengrab]
— —
>>Follow Andrew Desiderio (@forza_desiderio) on Twitter
Have a tip we should know? [email protected]